Midas Tuchel – Bayern's new boss has instant impact as Dortmund revert to type in Der Klassiker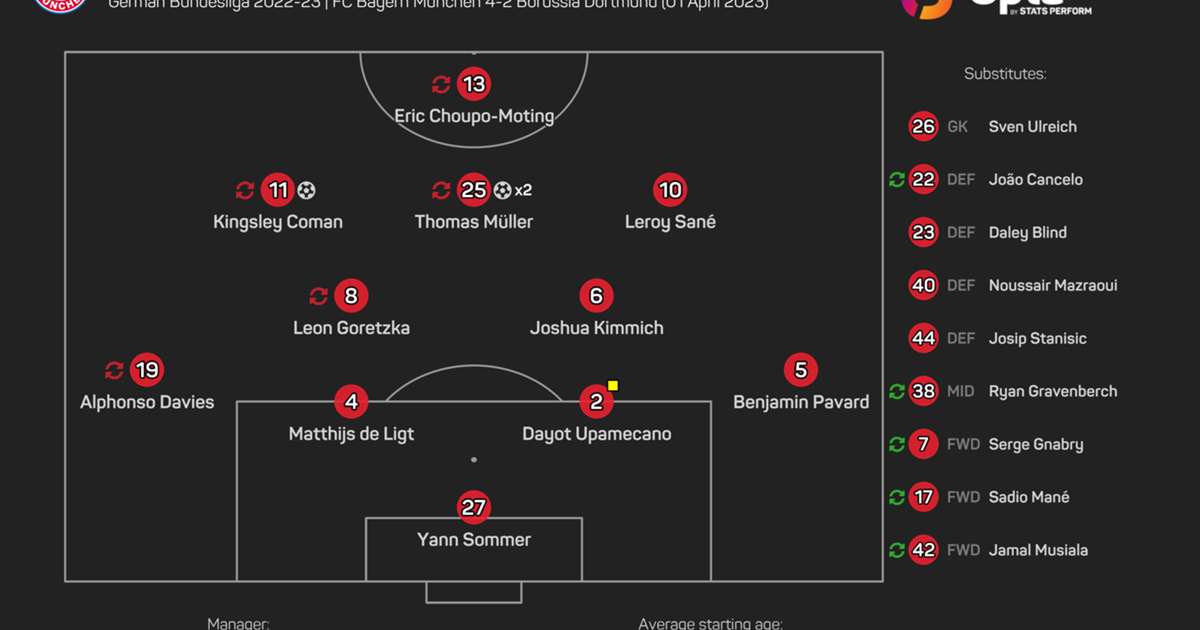 The Thomas Tuchel era began in impressive fashion as Bayern Munich beat Borussia Dortmund 4-2 in Saturday's Klassiker.

FotMob - 2 months ago
Borussia Dortmund hoped there had been a sign of change. BVB were back on top of the Bundesliga ahead of Der Klassiker and going to rivals Bayern Munich as the league's in-form team, their hosts meanwhile were in self-inflicted turmoil.
Victory at Allianz Arena would be the real statement Dortmund desired in a quest to prove they could end Bayern's domination of not only German football's biggest game, but the Bundesliga in general.
And perhaps Dortmund will still go on to win the title, but Saturday's match suggested that no matter how good BVB are, Bayern's psychological hold over them will take years to overcome.
As Bayern cruised to a 4-2 win, the Bundesliga's title race took another turn.
There had been plenty of talk about confidence from the Dortmund camp coming into the game, with CEO Hans-Joachim Watzke managing to perfectly encapsulate Bayern's recent dominance of this fixture when saying they were travelling "to Munich with a lot of self-belief for the first time in a long time".
He was referring to the fact BVB hadn't won at Allianz Arena in the Bundesliga since 2014, when Jurgen Klopp was still in charge, and their run of eight – now nine – successive league losses away to Bayern was their second-worst streak against any club in their top-flight history.
They'd been on the end of some hammerings in that time, too, losing by three or more goals five times.
So, when Dortmund began with genuine promise and swagger on Saturday, there was at least a suggestion Bayern weren't going to have it all their own way.
Dortmund were aggressive in their pressing and incisive with their distribution. Marius Wolf's energy down the right looked a potential weapon; Jude Bellingham showed some classy touches; Marco Reus' off-the-ball runs caused Bayern issues.
In fact, had Reus got his shot off a fraction of a second earlier in the seventh minute after Wolf's clever release, he may well have given BVB an early lead – as it was, Matthijs de Ligt got across to make a vital block.
But as predictable as some might have suggested a comfortable Bayern win was, there was nothing inevitable about the moment everything changed on Saturday.
Dayot Upamecano's pass from just inside his own half was seemingly routine for Gregor Kobel, but the goalkeeper took his eye off the ball as he raced out to clear, getting a slight nick on the ball to score arguably the most remarkable own goal of the season.
It's impossible to definitively say if things would've been different without that horror show, but Dortmund ceased to be much of a threat from that point in the 13th minute.
The following 10 minutes saw Bayern build a handsome lead. Thomas Muller was on hand to nudge home from De Ligt's headed flick-on to make it 2-0, and then punished another Kobel mistake with a tap-in when Leroy Sane's long-range strike was only parried.
It was effectively game over inside a quarter of the contest. Dortmund may have been the Bundesliga's form team coming into the weekend, but their first-half collapse had them reverting to type in Der Klassiker.
It wasn't over yet either.
Bayern looked especially potent in the opening half when attacking from the flanks, with Sane and – in particular – Kingsley Coman absolutely devastating at times.
Their deployment as inverted wingers was one of few significant alterations to the Bayern setup from Tuchel. It worked a treat almost throughout, and its success was tangible with the fourth goal early in the second half.
Sane cut in from the right, played a perfectly weighted pass towards the back post – through the legs of Muller – and Coman was there to stab home.
No one would have expected wholesale changes from Tuchel. After all, he's only had a couple of days to work with much of the squad following the international window.
But such a subtle yet demonstrably effective tweak perhaps highlights why Bayern were so keen to not miss out on the opportunity to finally hire Tuchel.
Similarly, Bayern were thrilling to watch, and we know just how important that is.
"We've come to the conclusion that the quality in our squad – despite the Bundesliga title last year – has come to the fore less and less often. After the World Cup we have played less successfully and less attractively. The big fluctuations in performance have cast doubt on our goals for this season, but also our goals for the future. That is why we have acted now."
Club CEO Oliver Kahn's comments after Julian Nagelsmann's sacking were pretty brutal but offered a lot of clarity to not only the man he'd just fired, but also the one he'd just hired.
Dortmund's late consolations via an Emre Can penalty and Donyell Malen's precise finish might be indicative of some of the issues with Bayern's mentality towards the end of Nagelsmann's reign. The 5-3 win over Augsburg comes to mind.
But 4-2 was a scoreline that flattered Dortmund. If anything, Bayern were a little wasteful, and had they checked their runs better, more goals certainly would've arrived.
In some ways, this win was almost as close to the perfect start as Tuchel could have enjoyed when you consider the reservations Bayern started to have with Nagelsmann.
It will have likely dealt Dortmund a psychological blow, while Bayern find themselves back at the top of the table having produced an entertaining attacking spectacle.
But this wasn't where the title was won and lost – Bayern's shaky post-World Cup form proves Tuchel still has a lot of work to do.