Haaland's secret to scoring is 'never getting sad' about missing, says Guardiola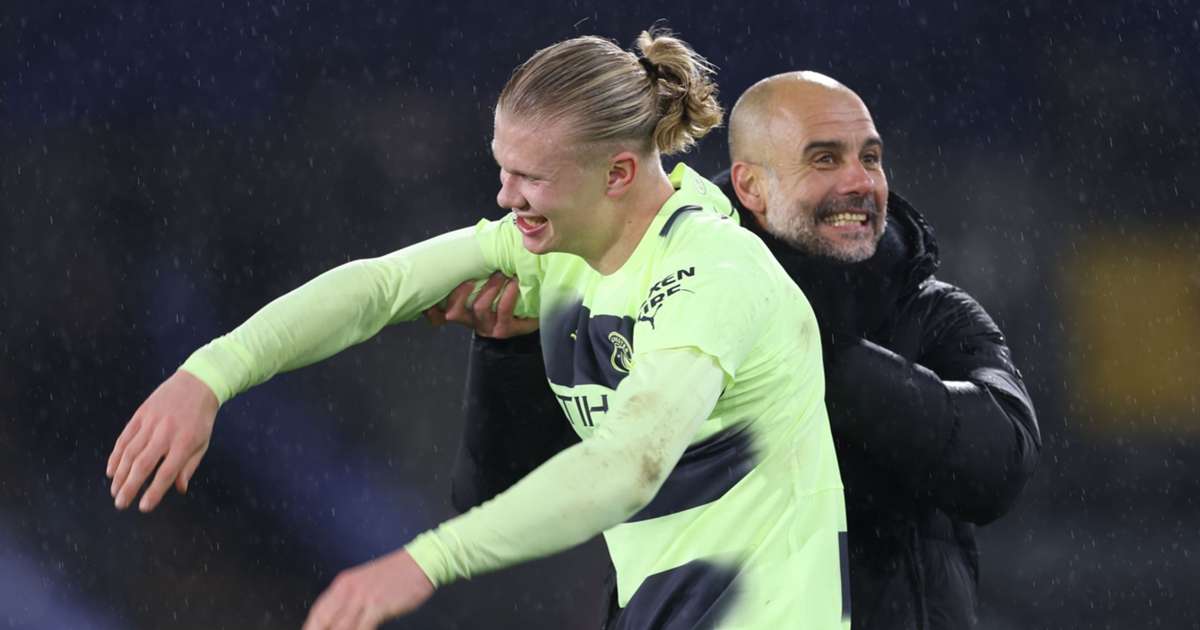 Erling Haaland scored his 28th league goal of the campaign, and 34th overall as Manchester City won 1-0 at Crystal Palace.
Pep Guardiola believes Erling Haaland's secret weapon is that he "never gets sad" about missing chances.
The Norwegian striker scored his 28th Premier League goal of the season as his penalty gave Manchester City a 1-0 win at Crystal Palace on Saturday.
Haaland had missed a presentable chance in the first half but slotted his spot-kick with calm precision in the 78th minute at Selhurst Park.
"One of his biggest attributes I discovered and knowing him, working together... he can miss one chance and he never gets depressed, he isn't sad," Guardiola said after the win.
"He's always thinking positive, the next one, he knows he'll have the chance and he'll be there. This is an incredible attribute for a football player.
"An athlete normally in football and basketball and tennis, when you're thinking in the action, in the past, that's finished, you cannot be a good athlete. This guy misses and he thinks, 'OK, I'll have another one and another one'."
Some have suggested City's occasional struggles this season, despite Haaland's incredible goal return, are a result of the former Borussia Dortmund man not offering much in the team's build-up play, and Guardiola acknowledged it as an area he wants his striker to improve.
"What I would like when I finish our period together is that he could improve his game with the association with the team, with the right tempo, to realise how he can be involved in our game and not just put the ball in the net," Guardiola said.
"Putting the ball in the net will happen all the time in his life. He doesn't score one or two goals and people say he's not the same. He's always there, the numbers speak for themselves. What he has scored in this league especially, we are still in March."
The City boss also described Haaland's first-half miss as a "penalty", despite the expected goal (xG) rate being just 0.2 according to Opta, compared to 0.8 for a penalty.
"He has to score five goals every game. If he doesn't score it's a lot of pressure," Guardiola joked. "He doesn't have the pressure, he's had an incredible season so far.
"He missed a penalty in the first half because the chance he missed, the penalty is more difficult, but he's always there. The way he celebrates his goals and his mates' goals shows how happy he is here and how happy we are with him.
"He's a young lad, to take the ball there in this pressure, it's not soft, the determination to put it there and score was great.
"Of course he feels the pressure, but it's nice. If you don't feel the pressure you'll be in the bar drinking something. You have to cope, you have to handle it."