Bayer Leverkusen: Wirtz and the exciting post-Havertz era, transfer strategy using data and AI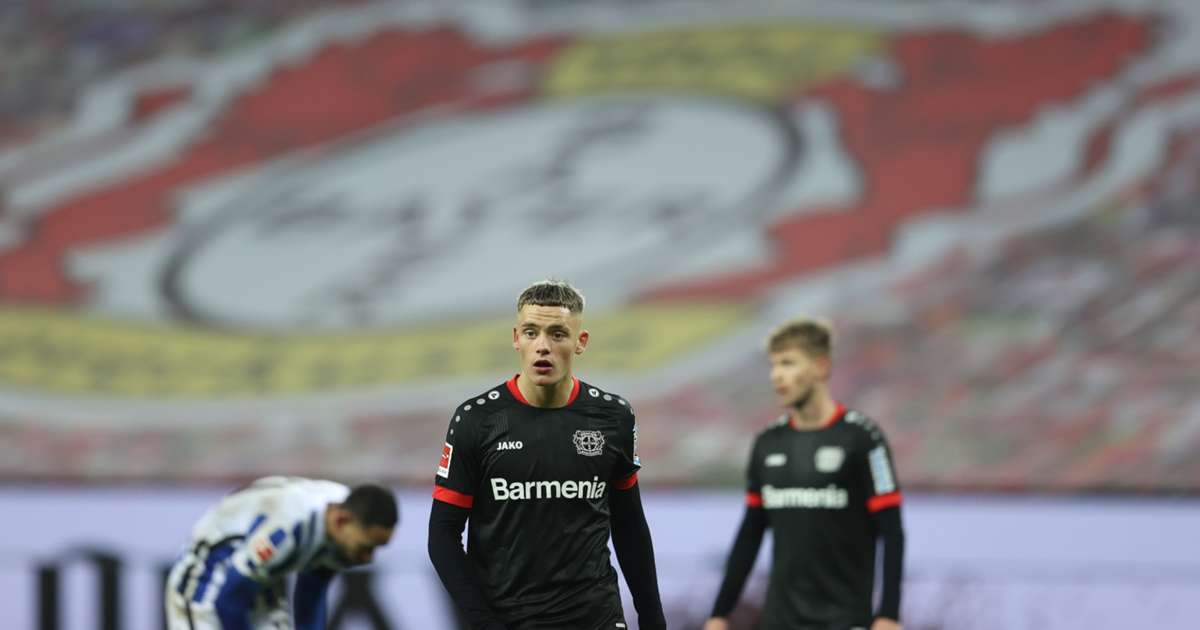 Simon Rolfes spoke to Stats Perform News about Bayer Leverkusen, their strategy and exciting talent, including Florian Wirtz.

FotMob - 3 months ago
"There is a spirit in the team but also the club – a dynamic in the last months and last years. That should lead us one day to a title, that's our big goal."
Bayer Leverkusen are one of Germany's biggest clubs, but not since the 1993 DFB-Pokal have they celebrated silverware.
Leverkusen have come close on numerous occasions in the Bundesliga – runners-up in 1997, 1999, 2000, 20002 and 2011, while they also reached the 2002 Champions League final, succumbing to Zinedine Zidane's iconic volley in Glasgow.
There were also runners-up appearances in the DFB-Pokal – 20002, 2009 and 2020. But an exciting and entertaining Leverkusen, even in the post-Kai Havertz era, are on the right track amid Bayern Munich's domestic and European dominance.
Leverkusen sporting director Simon Rolfes told Stats Perform News: "It's not easy if you're playing with the best team in the world – Bayern – but we have made a step forward and quite close to the top. We want to go forward. If it happens this year, fantastic. But we want to proceed and develop the squad, and mentality."
When star Havertz left for Chelsea at the start of the season in a transfer that could rise to €100million, and Kevin Volland joined Monaco, it left a noticeable hole at BayArena, where the pair scored 30 goals across all competitions in 2019-20.
But led by prodigy Florian Wirtz and a thrilling core of players, including Moussa Diaby, Leon Bailey and Nadiem Amiri, Leverkusen are continuing to challenge this term.
Leverkusen are third in the Bundesliga – three points behind RB Leipzig and 10 adrift of reigning champions Bayern – while Peter Bosz's side are preparing to face Young Boys in the Europa League last 32 and Rot-Weiss Essen in the DFB-Pokal round of 16.
With Havertz having departed, Leverkusen have a better goals/game ratio (2.5) through 26 games across all competitions this season, compared to 1.8 in 2019-20. The club have also improved defensively – goals conceded/game (1.0) and expected goals against (1.0) are better than last term (1.3) and (1.4) respectively.
Collecting 32 points, Leverkusen have played the best first half of a Bundesliga season for seven years – they collected 37 points at this stage in 2013-14.
Leverkusen have also exceeded their xG value of 23.1 to almost nine goals (8.9) – only Bayern have a greater margin between goals and xG (13.9). 
"In general yes because it's a chance for other players to develop and take more responsibility in the team and on the pitch," Rolfes, who was appointed in 2018, said when asked if he was always confident following the exits of Havertz and Volland. "We had the view that there could be other players who could take a step forward. The only thing for sure is Havertz is a world-class player, a fantastic guy and player. It's very difficult to replace him, so we said, it's not our direction to find a replacement for Kai because you will never find that replacement.
"We said okay, we will give our own players the chance to grow, this strategy works out very fast. It's always a risk for sure, but we have the confidence in those players to make a step forward, and also the team. If your superstar is gone, everyone knows we have to give more.
"We try to build-up, play offensive with ball possession, straightforward – the kind of style we showed against Borussia Dortmund [2-1 on January 19] is what we want. We want to have the ball, a lot of clubs and trainers are speaking to play without the ball, in Germany it's very popular, but we want to have the ball and want players who want the ball."
The emergence of teenage sensation Wirtz, and development of Diaby, Bailey, Edmond Tapsoba and Amiri, has further highlighted Leverkusen's successful recruitment and philosophy, which has become synonymous with German clubs.
"You have to have a clear strategy," Rolfes, who made almost 400 appearances for Leverkusen between 2005 and 2015, said. "A clear strategy of recruitment but also your playing style. That's really important for players but also the success of a club – both are strongly connected. For your playing style, you have to sign the right players. Then you have the chance that the players adapt quicker and develop better in your system because they feel comfortable in the way of playing. That's crucial.
"We know the Bundesliga, financially solid, but we are not at the top that we can sign every player, we have to develop players. The strategy is to recruit good players for our style and develop them to the top. Some clubs in Germany are quite successful with this."
"We are focusing on that talent and try to find them," he said. "We analyse millions of data with artificial intelligence, to pre-select and be early. It's not because we know players other clubs do not know, maybe 20 years ago, but everything is transparent. But you have to find them a bit quicker, but also clear in your playing style and what can they develop with your training work, in which areas they can develop in weak points. Because we are not signing players where everything is 100 per cent, we know they have weak points, but we know we have to work with them on that."
Data and AI continue to play a huge role in football, with Rolfes adding: "It's very important and because the data will be better and better, it will become much more important in the future because you will get better results. We are working with our own team on scouting, preparing for next matches – just in our daily work."
The likes of Michael Ballack, Toni Kroos, Bernd Leno and Havertz have all made names for themselves at Leverkusen, and Rolfes continued: "We count on the young players [at Leverkusen]. We give them trust and the opportunity to play. For example, Wirtz, we give him the chance to replace Havertz and not sign another star to put in front of him. That is one thing.
"We have a very professional environment, we really take care of the guys – try to develop them, work on the pitch and prepare them for top football. We have an advantage that the media surrounding is not so big here. That's good for young players to have a familiar environment where they feel very comfortable and less stressful, then try to reach the best level on the pitch."
Wirtz is the heir apparent to Havertz, having made an immediate impact after the 17-year-old swapped Cologne for Leverkusen in 2020.
Having made his debut in May 2020, Wirtz became the youngest goalscorer in Bundesliga history the following month, finding the net in a 4-2 defeat to Bayern after coming on as a substitute. Dortmund's Youssoufa Moukoko has since snatched that record.
Among all players with at least 50 dribbles in this season's Bundesliga, only Augsburg's Daniel Caligiuri has a better dribbles success rate (70 per cent) than Wirtz (65 per cent). 
Wirtz is one of 50 players born in 2003 or earlier to appear in Europe's top five leagues this season. Those 50 players have collected a total of 14 goal involvements – with seven of them coming from Wirtz. 
Among all players in Europe's top five leagues born in 2003 or earlier, Wirtz played the most minutes in all competitions this season (1,579) and had the most goal involvements in all comps (11 – six goals and five assists). 
"I saw him for the first time at 13. Now I have to say, he is playing Bundesliga the same way he was playing at 13, 14, 15, 16 – I followed him all the years. I always said okay, that's the player for us, the player for Leverkusen. That was not a surprise for me when he came to us and adapted very quick to our style," former Germany international Rolfes said.
"It was also one argument I said to him during the transfer. I said, 'you are a player for us, you will develop your skills and strengths much better because that's what we need in our style'. His development is fantastic."
Like Havertz, Bailey could be the next Leverkusen star to leave amid constant speculation over his future.
The 23-year-old winger, who has scored four goals and supplied five assists in the 2020-21 Bundesliga so far, has been linked with the likes of Manchester United and Manchester City and Rolfes is unwilling to sell the Jamaican to just any club.
"He's played a fantastic season," Rolfes said. "He struggled a bit last season, but he is performing at a very high level. A good guy in the squad. He has a chance to score goals for sure. A fantastic technique. That's part of lives also, to sell players but we want to sell to the top eight clubs in the world, but not to other clubs. Sometimes a player will leave us. We have a contract with Bailey but we are quite relaxed."
Diaby is another prime example for Leverkusen, where the accelerating Frenchman has 561 sprints in the league this season, more than any other player. 
The former Paris Saint-Germain speedster has been involved in 15 goals in all competitions in this season (in 26 games) – with his next goal involvement the 21-year-old would already reach his value from his first season in Leverkusen (16 in 39 games). 
"When we extended the contract until 2025, that was a really nice Christmas present to extend the contracts of Diaby, Tapsoba and Wirtz," Rolfes said. "[Diaby] is a key player of our squad. His acceleration and speed is outstanding. He has developed on scoring and assisting. To use his acceleration on a top, top level. He has potential to develop further. I'm very, very happy he is part of our squad."
Meanwhile, Timothy Fosu-Mensah could be the latest success story for Leverkusen, who also completed the signing of Netherlands Under-20 international Jeremie Frimpong from Celtic on Wednesday.
After joining Manchester United's academy in 2014, the 23-year-old called time on his Old Trafford stay in January, and Rolfes said: "He is not so young but the last two years, you had the feeling there was more in the box than there was in the last two years. That's interesting for us, to sign that kind of player where you have the feeling they can reach more. We want to help him.
"Timothy is a really good guy, ambitious guy. I like this. He has the ability, the physicality, very fast, a good technique. A lot of fundamental things that are important for our playing style. Then if the mentality and ambition isn't right, then let's work on that to develop you. I'm convinced Timothy can be the next example for our club."