Conte: Tottenham's Champions League qualification is like a trophy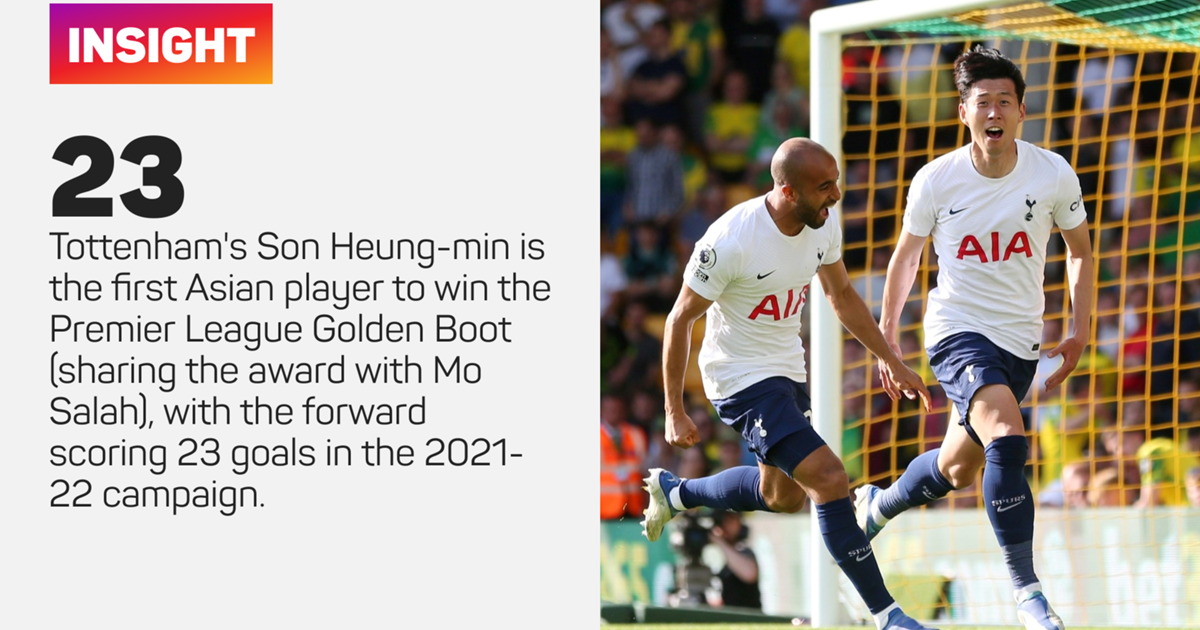 Son Heung-min and Dejan Kulusevski scored braces to seal Tottenham's spot in next term's Champions League, to the delight of Antonio Conte.

FotMob - about 1 month ago
Tottenham boss Antonio Conte says the club's qualification for the Champions League is like winning a trophy. 
Spurs claimed a fourth-placed finish in this season's Premier League after a resounding 5-0 win over bottom club Norwich City on Sunday.
The win was secured through Harry Kane's header and braces from Dejan Kulusevski and Son Heung-min.
Son's double saw him claim the Premier League Golden Boot alongside Liverpool's Mohamed Salah after the pair finished with 23 goals each.  
Conte has overseen an impressive turnaround since he took over from Nuno Espirito Santo in November.
Spurs were eighth in the table then, yet a fine second half of the campaign saw them finish with 71 points – a tally that have only bettered in three previous Premier League seasons (86 in 2016-17, 77 in 2017-18 and 72 in 2012-13).
"I didn't win a trophy in this season like in the past but if I am honest to get a place in the Champions League given the difficulty with the situation in November, I have to consider it a really big achievement," he told a media conference.
"After two years Tottenham is able to play again in the Champions League. For me this is a trophy and I'm very happy.
"To become very good and to compete for something important you need to improve in many aspects. I know only one word and that's work, work, work.
"Everybody has to do the right path in this process. For sure we need to improve a lot. Next season the league will be very difficult for all of the teams."
Conte, who signed a contract until the end of the 2022-23 campaign, said he will need a few days to gather his thoughts before ensuring his ambitions are in line with those of the club's hierarchy.
"I am under contract until next summer," he added. "I signed a contract for one year and seven months. I have enjoyed a lot my time in Tottenham.
"It was a big challenge in a modern club, with a fantastic stadium and training ground and I knew the situation I would find.
"On the other hand you know I am a person who has ambition and I like to fight for something important, to lift trophies. I always said to you that at the end of the season I'd speak to the club and find the best solution.
"Now I think for me, the club and my players I think it's good to have three, four or five days of rest and then the mind will be clear and then you can consider the whole season and be calm before you speak.
"Now there are lots of emotions for me in my mind."