'I am never disrespectful with colleagues' – Simeone defends Atletico amid criticism of style and approach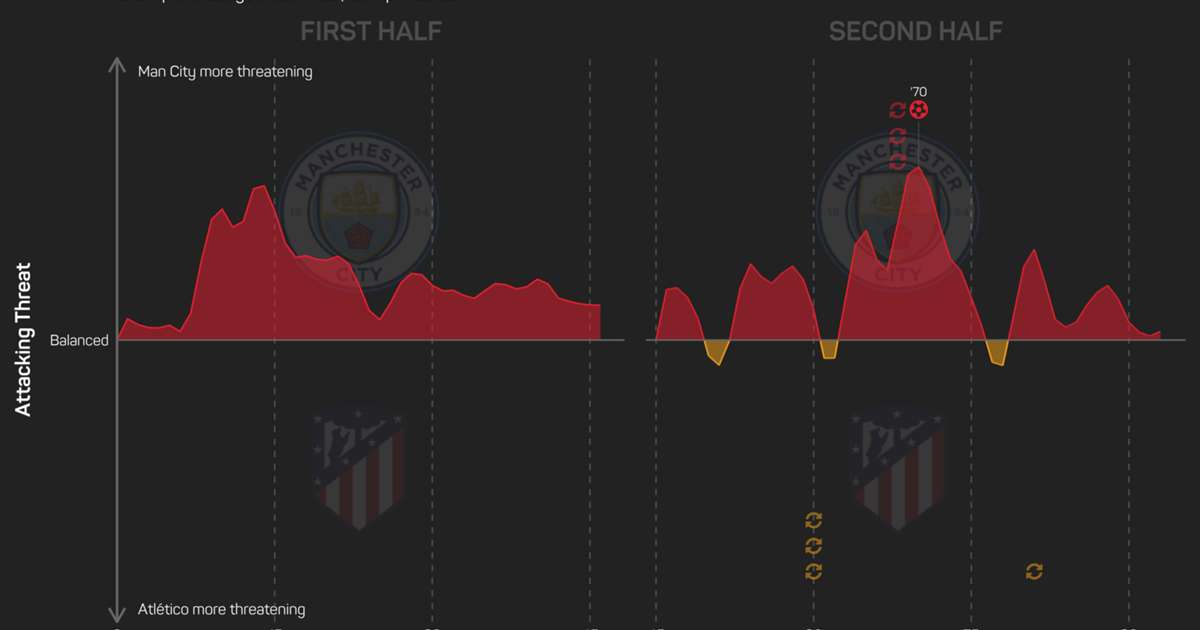 Atletico Madrid's style of play has come under scrutiny recently, but Diego Simeone has defended his approach to the big matches.

FotMob - last year
Diego Simeone sees no issues with Atletico Madrid's more conservative approach in the big games, suggesting his tactics will be similar in the second leg against Manchester City.
Atleti are aiming to overturn a 1-0 deficit when they welcome the Premier League leaders to Wanda Metropolitano on Wednesday in their Champions League quarter-final tie.
Kevin De Bruyne's second-half strike settled last week's first leg at the Etihad Stadium, where Simeone employed an extremely defensive system.
Atleti had just 29.5 per cent of possession, while only playing 297 passes to their opponents' tally of 696 as they failed to have a single effort or even win a corner.
It was the first time since 2012 that any side had not managed to have one shot in a Champions League game, while City had 15 attempts, albeit only two of them were on target.
Former Atleti coach Arrigo Sacchi criticised Simeone while City boss Pep Guardiola appeared to question his counterpart, saying that since "prehistory" it had been difficult to break down a team defending so deeply with two lines of five.
However, Simeone refused to bite, insisting he prides himself on demonstrating respect.
"I have been coaching since 2005, and I always say the same thing: I never do [comment], I am never disrespectful with colleagues of mine," he said.
"I put myself in the position of the coaches I compete against, and I understand that there are different ways of expressing what you feel as a coach.
"When someone does not appreciate a colleague, I don't share that. Others' opinions, press, ex-players, people who haven't been in the game a long time have opinions and talk. Words are free, and we can all express an opinion. 
"There are ways of acting among colleagues and I have one: respect others always, always, always."
While sticking by his ideas of how to get the best out of his team against City, Simeone did concede he is looking for more cutting edge in attack.
He added: "I am not going to get far away from what we believe in. [But] hopefully, we can combine better – have better, faster transitions, be more precise in our counter-attacks – that our most significant players can have a fantastic night. 
"We will try to take the game to where we think we can hurt them. In a football match, anything can happen."