Copa America: Mineiro on Selecao success, weight of Brazilian expectations and the need for Neymar alternative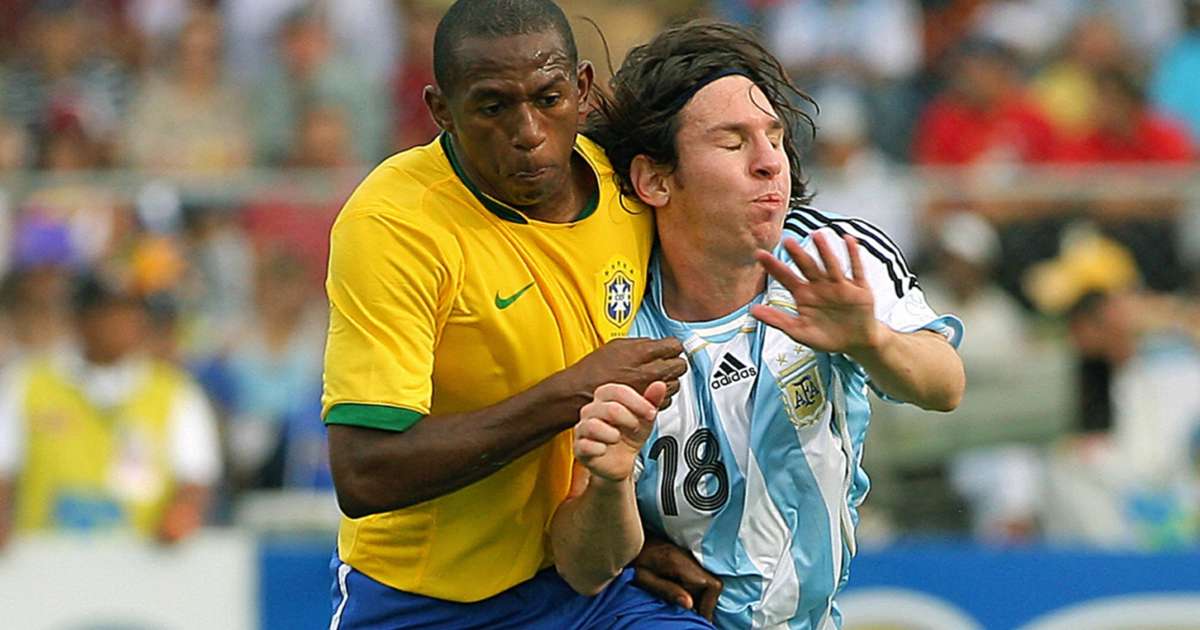 Mineiro spoke to Stats Perform about winning the 2007 Copa America with Brazil and this year's event as the Selecao eye back-to-back titles.

FotMob - 3 months ago
As Brazil eye back-to-back Copa America trophies, Mineiro has been to the summit before.
Mineiro was part of the Selecao side that won the 2007 Copa America, defeating Argentina 3-0 to retain their CONMEBOL crown.
Brazil – led by Dunga – were far from favourites 14 years ago in Venezuela, where Ronaldo, Ronaldinho, Kaka and Adriano were among the absentees.
But a team featuring Robinho, Julio Baptista and Dani Alves upstaged great rivals Argentina, who were boasting Lionel Messi, Javier Zanetti, Carlos Tevez, Juan Roman Riquelme, Juan Sebastian Veron and Javier Mascherano in Maracaibo.
"On that occasion we basically went to the competition with our reserve team," Mineiro – who started every match and went on to earn a move to Hertha Berlin following the Copa America success, before joining Chelsea – told Stats Perform. "As several of the main players could not take part in that edition of the tournament.
"At the beginning, people did not expect much from us, the media was in doubt about our potential. But we managed to grow as a team little by little and we showed our potential. The biggest challenge came in the final match. And we won the Copa America and brought another trophy to Brazil."
"We are a country of over 200 million inhabitants. And it is a big responsibility to wear the yellow shirt," said 24-time international Mineiro. "The pressure is very big. However, it is also an honour, a privilege and a dream come true for every youngster, for every professional player to be able to wear that shirt and represent the country.
"We knew it. We were aware of our limitations. We knew it would be a tough Copa America for us. But we were totally focused and united and that was crucial for us. As I said, we went step by step gaining confidence. We got stronger and found ourselves in the final and managed to win it. For every professional footballer it is an honour to wear Selecao's shirt. Regardless of the pressure you must deal with."
The pressure is on Tite's Brazil to keep their hands on the Copa America trophy this year, as they prepare to open the showpiece South American tournament against Venezuela on Sunday.
Brazil have won five of the last nine editions of the Copa America, including the most recent one in 2019, while the Selecao have a favourable record against seven of the nine other teams at this year's event.
Pressure is nothing new in a country, where football transcends everything else. It is a way of life. It is a special kind of pressure in a country of 200million people, when every boy grows up wanting to play for the Selecao.
Amid the huge weight of expectations, Mineiro said: "Brazil is a country where emotions normally speak higher than reasoning. It is a fact. The here and now normally defines your status, how good you are. In Brazil there is not much patience to wait for a job to be developed. This is the Brazilian style, it is cultural to want immediate results.
"As we are considered...well, at least this is my impression where I go, we are considered one of the best - if not the best - football country in the world. But we must change that mentality and learn to work in different scenarios. With or without pressure. When we wear the Selecao shirt, every fan and the media expect us to win the game and play beautiful football and reach great results."
Brazil will also face Peru – a rematch of the 2019 decider, Colombia and Ecuador in Group B of this year's Copa America.
"Whenever you go onto the pitch, no matter if that is for the national team or for your club, you always think of winning the game," the 45-year-old continued. "But the pressure is obviously higher at Selecao. And when you represent your country, the desire is always to fight and do a great job.
"But it is hard as the opponents are always motivated to get a positive result against Brazil. It has been like that for a long time. Brazil have difficulties to beat some sides, perhaps because of their big motivation when they face Brazil. Anyway, every player will always try to represent the Selecao in the best possible way."
All eyes will be on superstar Neymar, who is carrying the hopes of a football-mad nation.
Neymar has scored 66 goals for Brazil, second only to Pele (77). Since his Brazil debut in August 2010, the Paris Saint-Germain forward has scored 47 more goals than any team-mate (Gabriel Jesus and Philippe Coutinho, 18).
In 2020-21, Neymar completed 5.6 dribbles per 90 minutes in Ligue 1 – the best mark of any player in Europe's top-five leagues to play at least 1000 minutes. Since joining PSG in 2017, he ranks third in France's top flight for goals (56) and fourth for assists (31), despite ranking 177th for appearances (70).
For all of Neymar's brilliance, Mineiro believes Brazil must learn not rely on the former Barcelona superstar.
"Neymar is a great player. His quality and potential are undeniable. On several occasions Brazil depend on his performance to show great football. In my opinion, Brazil should have a plan B just in case Neymar is absent for some reason," added Mineiro.
"Brazil must learn to play as a team and make the most of the individual quality of every player. That way we would become a stronger, more competitive side. Then we would surprise other teams who will be prepared to cancel our main players."
Neymar and Everton's Richarlison have formed an impressive relationship in attack for Brazil, though Mineiro has his collective concerns for the South American powerhouse.
"I have been following Richarlison. He is an excellent player with a big potential," said Mineiro. "He is growing and is an important player for Selecao. There is something I am a bit worried about Selecao. We have good players but they do not play together frequently or have enough time to train together as the European national teams do.
"Germany, for instance, a team that I am able to follow closely, they do have more chances to be together either training or playing matches. More than Brazil. They know each other well and have more opportunities to be together either in their clubs or in competitions. That is an advantage for the European national teams. Therefore, as many training sessions or games we can have with our good players can only be good for Selecao."