Livakovic 'the difference' for Croatia as Dalic hails Modric after World Cup win over Brazil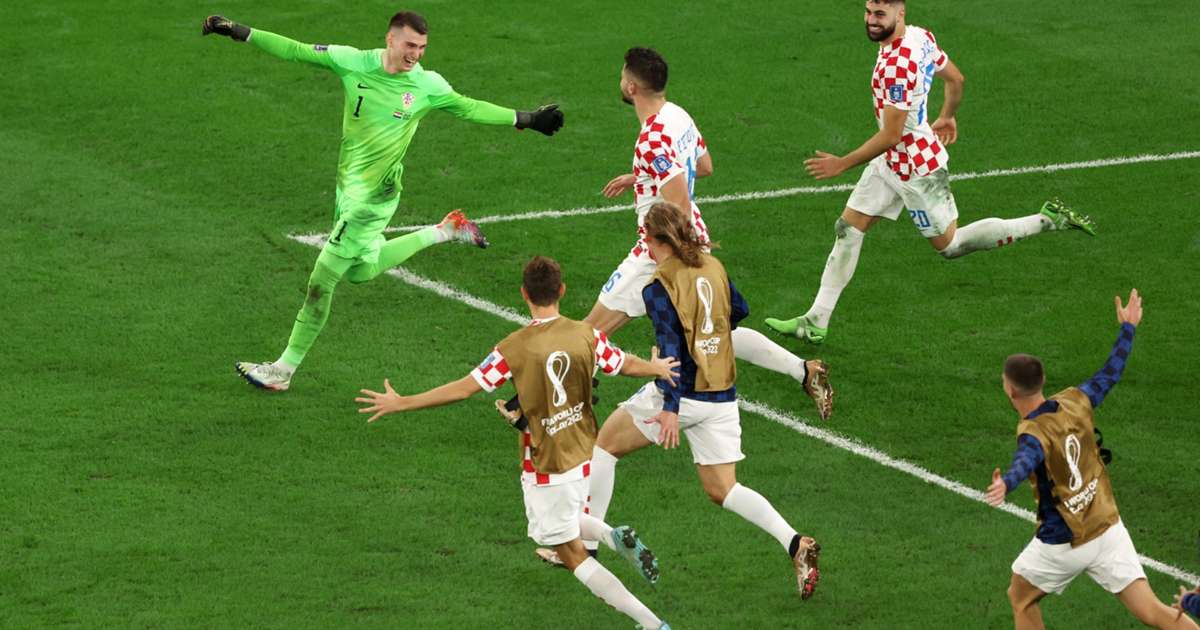 Luka Modric dominated against Brazil's midfield for Croatia, while Dominik Livakovic again stepped up in a World Cup penalty shoot-out.

FotMob - about 2 months ago
Zlatko Dalic pinpointed Dominik Livakovic as "the difference" in Croatia's World Cup quarter-final win over Brazil, while he hailed the "unbelievable" Luka Modric.
Croatia, as they did against Japan in the round of 16, progressed in Qatar with a penalty shoot-out victory over Tite's side on Friday after a 1-1 draw at Education City Stadium.
A well-crafted Neymar strike before half-time in extra-time seemed to have Brazil on course for the final four, only for substitute Bruno Petkovic to level with a deflected strike with four minutes remaining.
Livakovic made the most saves by a Croatian in a World Cup match (11) before stepping up in the shoot-out to deny Rodrygo as Croatia reached the semi-finals in FIFA's top tournament for just a third time.
"A couple of situations created by Brazil owed to their quality and speed, but we were able to prevent them with our goalkeeper, who was in top shape," Croatia head coach Dalic said.
"He [Livakovic] was the difference, he made the difference in the crucial moments, he saved us and he was there to save us.
"He was there to do what he's supposed to do, he saved the first penalty and gave us confidence and less confidence for Brazil because they were afraid he'd save again.
"He made the difference for us over the whole match."
It was not the first time Livakovic has shone for Croatia having become only the third goalkeeper to make three saves in a single World Cup penalty shoot-out with his heroics against Japan.
Modric was far from his usual high standards against the Samurai Blue but left his mark on Brazil with an excellent midfield showing alongside Marcelo Brozovic and Mateo Kovacic.
"Modric played for 120 minutes with great rhythm, he was at the head of the Croatia team and shot his penalty when he needed to," Dalic added.
"I think it is unbelievable how he plays and how he's not tired. He didn't fall behind and when we were thinking about replacing the midfield, we asked and he was fully ready.
"He played the entire 120 minutes. At 37 that's unbelievable but that's Luka Modric, and it only shows he's one of the best in the world.
"The recipe for success is his seriousness and professionalism. He's a gentleman, he's impeccable in training. He tries his best, works in individual training and lives for football, which rewards him ten-fold.
"It's very difficult to find someone his age, 37, with such performance, such strength, whether he plays for Real Madrid or Croatia.
"He's proven his quality. When we came to the World Cup, people were writing him off, then he came back in his best light, at the top of his game, and he brought Croatia into the semis."
Brazil's lone holding midfielder Casemiro had no answer and was largely overran against Croatia's midfield trio, who Dalic labelled "the best in the world".
"I said several times before, Croatia has the best midfield in the world. We have passes, control of the game and ball, and managed to demonstrate that," he added.
"We did interceptions, our midfielders were great there. They were not hasty, that's the most important part. When we broke the game open, we went forward.
"We didn't have many chances but they were sufficient, as much as we needed, and I think the midfield is the best part of the team."