Milan champions 2021-22: Djokovic's first Wimbledon title, the launch of Game of Thrones – how the world looked when Rossoneri last reigned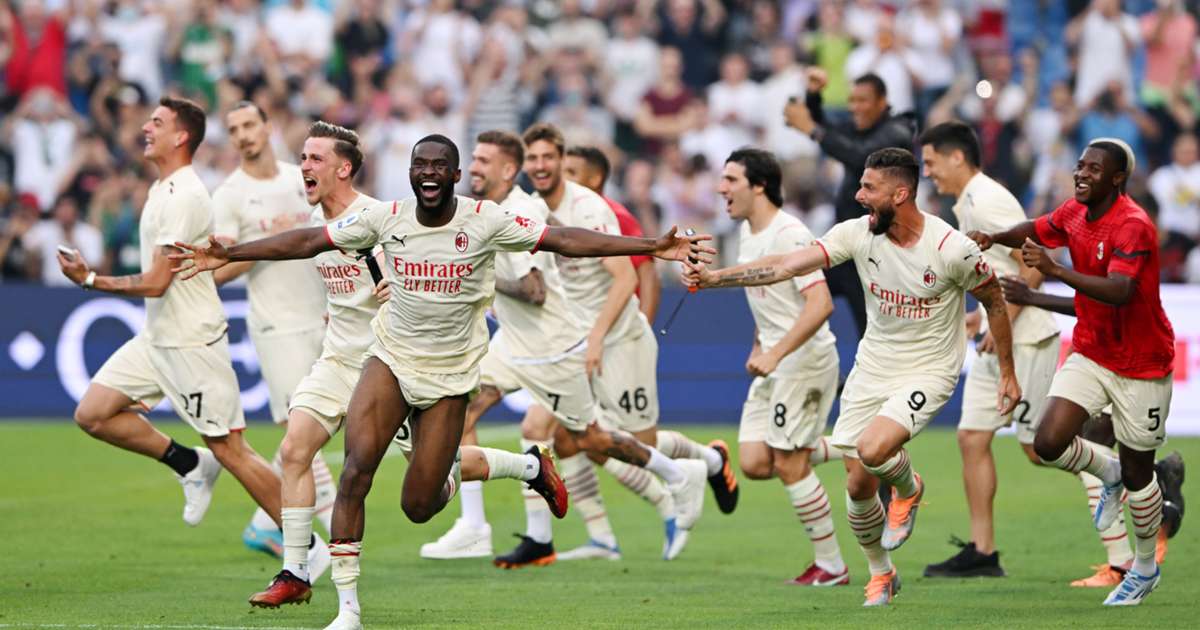 From sports to politics, TV and technology, the world has moved on considerably since Milan's most recent Scudetto success in 2011.

FotMob - about 1 month ago
Milan are top dogs in Italy for the first time in 11 years after holding off fierce rivals Inter to finish top of Serie A.
The Rossoneri finished the season with six wins in a row, and no defeat in 16, culminating in a 3-0 victory over Sassuolo on Sunday.
After falling just short in Stefano Pioli's first campaign at the helm when finishing second, Milan can finally celebrate a first Scudetto since 2010-11.
While it may only have been a little over a decade since Milan last reigned, a lot has changed both in a sporting and non-sporting sense.
Here, Stats Perform looks at how the world looked around the time of the club's most recent triumph in 2011.
First of many for Djokovic, McIlroy makes his mark
Novak Djokovic is favourite to win Wimbledon for a seventh time next month, though he was yet to claim his first crown at SW19 when Milan last lifted the Scudetto.
The Serbian went on to add the US Open to the Australian Open he also won that year, overtaking Rafael Nadal to become world number one in the process.
Tiger Woods was the highest-earning sportsman that year – some things never change – yet it was Rory McIlroy's name on everyone's lips after taking the world of golf by storm.
McIlroy carded a 69 in the final round to break the US Open scoring record with a 268 as he became the youngest winner of the tournament since Bobby Jones in 1923.
A number of major sporting events took place that year, with New Zealand beating France in the Rugby World Cup final and Japan triumphing in the women's football equivalent.
India saw off Sri Lanka to celebrate Cricket World Cup success on home soil, meanwhile, and Netherlands beat Cuba in the Baseball World Cup.
Deposed leaders fall
In the world of politics, hundreds were killed and thousands more injured during violent clashes in Egypt to protest against government corruption and poverty.
Fidel Castro resigned as First Secretary of the Communist Party of Cuba after serving in the party for 45 years. He died in 2016 at the age of 90.
A 10-year search for Osama bin Laden came to an end when the al-Qaeda founder was killed by special forces in Pakistan.
Deposed Libyan leader Muammar Gaddafi was captured and killed during the civil war, leading to widespread ramifications.
A year of world-shifting events culminated in the United States withdrawing its last troops from Iraq, eight years after the war had begun.

Winter is (almost) coming
Television has come a long way over the past decade, not least in terms of the countless streaming services and wide array of boxsets to appease anyone and everyone.
Back when Massimo Ambrosini lifted the Scudetto in 2011, arguably the most popular series of all time, Game of Thrones, was still midway through airing its first season.
Suits, Homeland and The Killing also premiered that year, while over in Italy, 48-year-old painter Fabrizio Vendramin (us neither) won the second season of Italia's Got Talent.
Beyond painters, erm, painting to an audience of millions, the big TV talking point that year was Charlie Sheen being fired from Two and a Half Men for "self-destructive conduct".
Relight My Fire
The importance of certain technology, not least smartphones, has only grown in the past 11 years.
Steve Jobs, the co-founder of Apple, played a huge part in that up until his untimely death at the age of 56 in October 2011 after battling pancreatic cancer.
One of the standout product launches of the year was Amazon's Kindle Fire, which undoubtedly helped chairman Jeff Bezos on his way to becoming the world's richest man.
Whether Milan's current crop can stand the test of time, unlike the Kindle, remains to be seen.