Ancelotti suggests Spanish football has racism problem after Vinicius abused again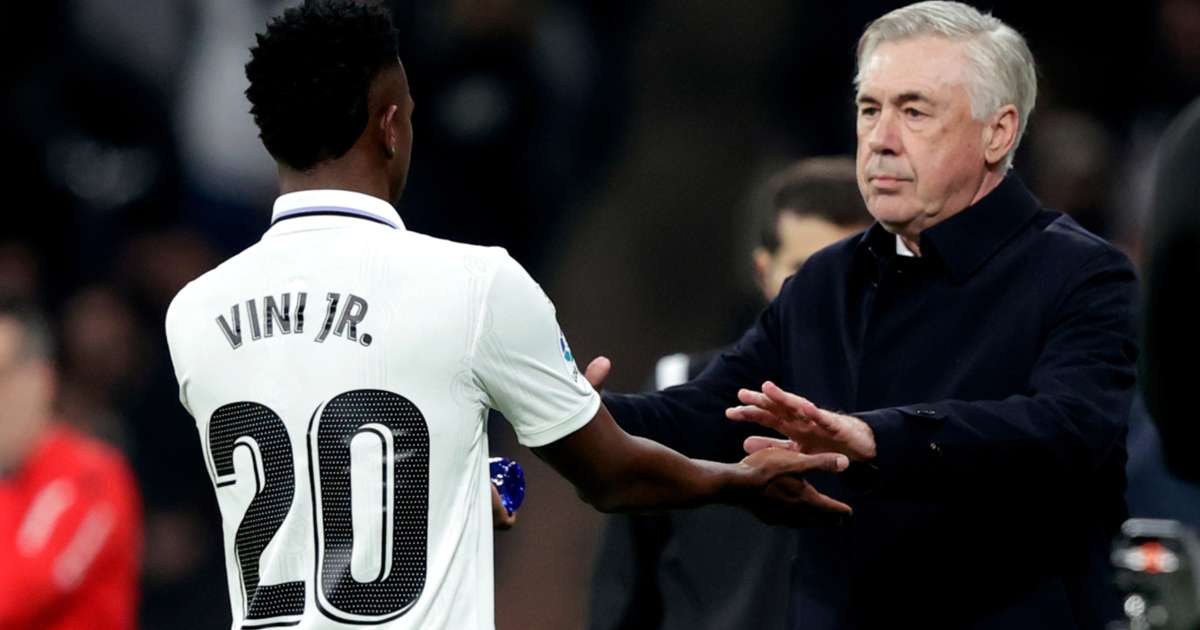 Carlo Ancelotti says Spanish football must front up to the issue of racism after Vinicius Junior was abused again on Sunday.

FotMob - about 2 months ago
Carlo Ancelotti suggested Spanish football has a "problem" with racism after Real Madrid star Vinicius Junior was abused again on Sunday.
LaLiga launched an investigation on Monday after social media footage showed racist insults being directed at Vinicius during Madrid's 1-0 defeat at Real Mallorca on Sunday.
The 22-year-old was subjected to racist abuse in both of Madrid's matches with city rivals Atletico Madrid this season, while LaLiga filed hate crime charges to Spanish courts after similar incidents in December's game with Real Valladolid.
Vinicius accused LaLiga in December of "doing nothing" to combat racism, and his head coach feels Spanish football must face up to the issue.
"The question I ask is this: What is the problem?" Ancelotti told reporters. "Vinicius? Vinicius' team-mates? What's the problem? To defend himself? What does Vinicius have to defend himself against? What do his team-mates have to defend themselves against? I don't know.
"It seems like the problem is Vinicius, but the problem is what happens around him. Period.
"It is a problem of Spanish football. I am a part of Spanish football and I think it's a problem that we have to solve. Because it seems that Vinicius is the culprit, but he is the victim of something that I don't understand."
Federico Valverde defended Vinicius' exuberant playing style after he was fouled 10 times against Mallorca – the most by any Madrid player in a Spanish top-flight match since Isco against Real Betis in August 2013.
Vinicius has won 79 fouls in LaLiga this season, 25 more than any other player, and Valverde feels Madrid's players must stand up for him to counter any opposition roughhouse tactics.
"He is an incredible person, with a lot of values," Valverde said ahead of Madrid's Club World Cup semi-final against Egyptian side Al Ahly on Wednesday. "On the pitch, he tries to enjoy it, that's the way he is.
"I always say that so many fouls on the pitch is part of the game, we have to defend him as team-mates.
"Another thing is racism and what happens on the pitch, [there is] so much anger. He is a 22-year-old boy. I think Vinicius deserves respect."