Ronaldo did not ask to leave Portugal camp in Qatar - Santos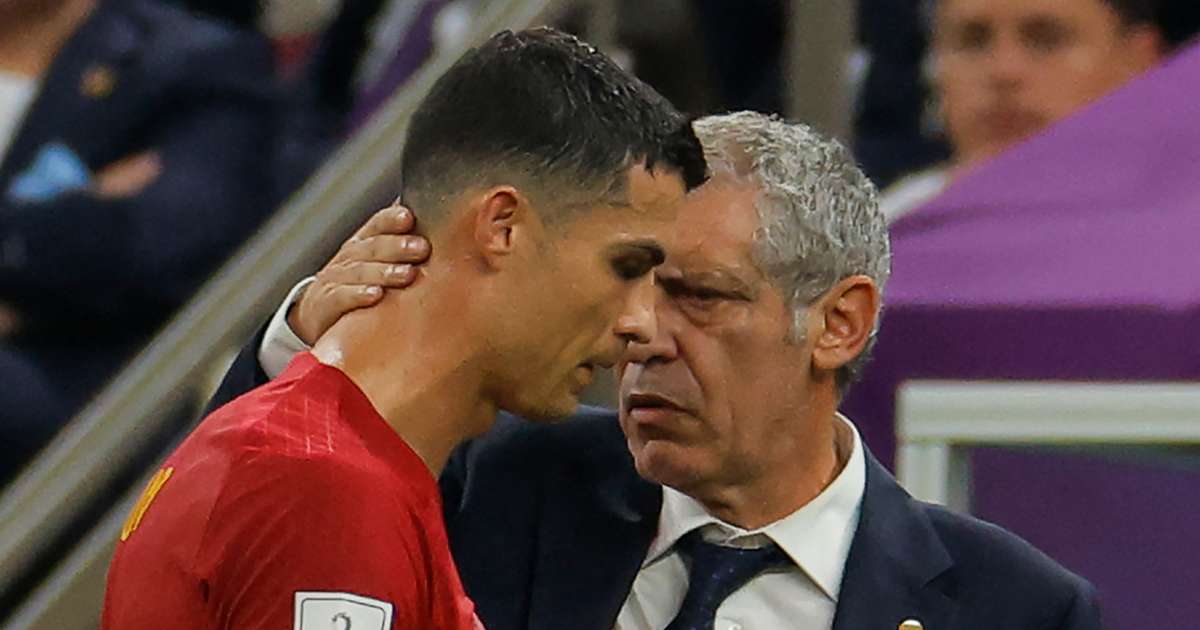 Portugal coach Fernando Santos was frustrated at talk prior to the World Cup clash against Morocco being dominated by Cristiano Ronaldo.

FotMob - about 2 months ago
Cristiano Ronaldo has never asked to leave the Portugal squad at the World Cup, but coach Fernando Santos did admit the veteran striker was not happy at being left out against Switzerland.
The 37-year-old was omitted for the round of 16 clash with Switzerland with Portugal cruising to a 6-1 win in his absence to set up a quarter-final clash with Morocco on Saturday.
Reports had suggested there had been a major fall-out between Santos and Ronaldo with the latter threatening to walk out, but that was flatly denied.
Santos said: "We had a conversation. I don't do that with all the players but he's the captain of the squad. You know what he represents for Portuguese football, for the Portuguese people and for the national team.
"It was on the day of the match after lunch. I explained to him why he would not play and said in terms of our strategy 'I think it would be better if you did not start. I think the game will be difficult and I will save you for the second half'.
"Cristiano was obviously not very happy as he has always been a starting player. But we had a normal conversation in which I explained my points and he accepted them.
"He never told me he wanted to leave the national team."
Santos often wears the look of an exasperated man but he was especially perplexed by the repeated questions relating to the former Manchester United and Real Madrid star.
"It's high time we stopped with this conversation and look at what he did in the match," he added.
"He warmed up with his colleagues, he celebrated all the goals and he was the one who invited the players to applaud the fans at the end. It's time for you [the media] to leave Cristiano alone.
"Ninety per cent of the questions are about Cristiano."
Ronaldo's replacement against Switzerland, Goncalo Ramos, scored a hat-trick as part of a team that displayed more verve and attacking threat than in previous games in Qatar.
Santos refused to confirm whether Ramos would keep his place against Morocco or if Ronaldo would return.
"Just because a team wins doesn't mean you can't change it," he said. "The team we play on Saturday will present different challenges, they are a very different team to Switzerland.
"They are well-organised with many players who play for the biggest clubs in the world. This will not be an easy game."
Playmaker Joao Felix was another who shone against the Swiss, arguably playing his best game of the tournament. Asked if he felt the shackles had been released with Ronaldo absent, he said: "I don't think it's mandatory to pass to Cristiano. We try to pass to the player that's available.
"Independent of Cristiano being on the field, we have the same tactics, the ones we've been using for all four games. He has skills that other players have and vice-versa. We, as a team, have our own identity and we focus on that."