Muscat shattering perceptions with attractive football as F.Marinos boss follows in Postecoglou's footsteps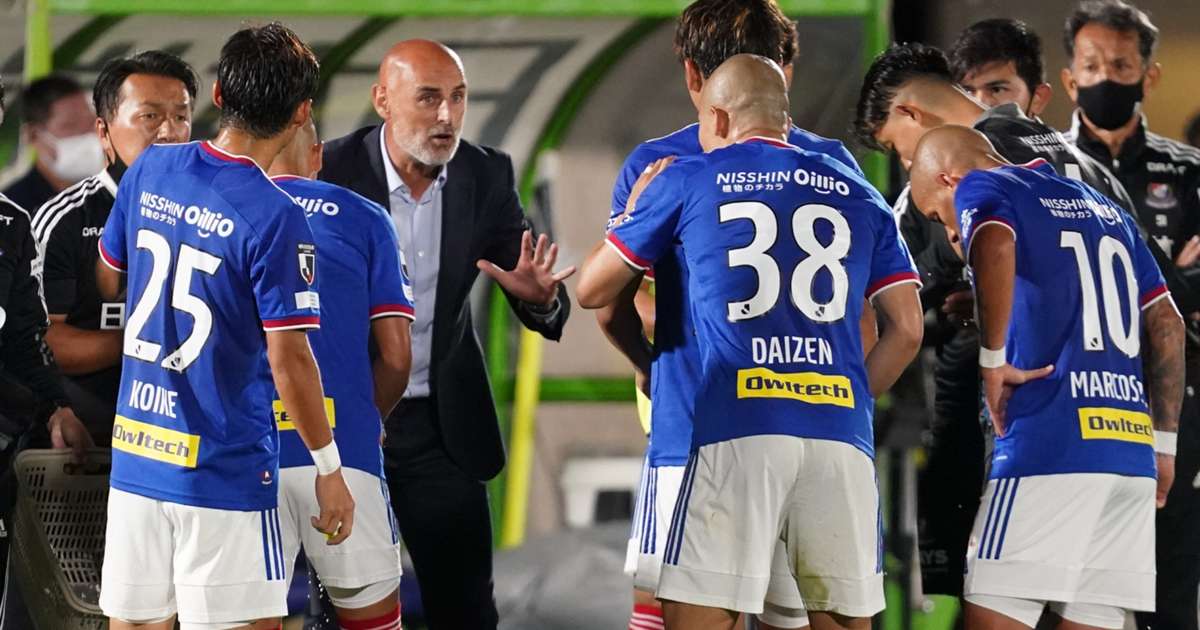 Kevin Muscat spoke to Stats Perform about his transition from captain to coach and replacing Ange Postecoglou at Yokohama F.Marinos.

FotMob - about 1 year ago
When it comes to reputations, once you have one, they are hard to shake.
Kevin Muscat knows that better than most, having earned a reputation as a hardman throughout his playing career in Australia and the UK, where he was the ultimate villain, but despite his combative approach, there was more to his game.
Muscat, who retired from professional football in 2011, was always comfortable with the ball at his feet, preferring to play out from the back. His teams mirror that view, as he now finds himself following in the footsteps of Aussie trailblazer Ange Postecoglou once again in Japan.
The captain of Melbourne Victory in their first A-League Men season in 2005, Muscat replaced Postecoglou as head coach at AAMI Park in 2013 after the now Celtic manager took charge of the Australian national team, having served as his assistant.
Muscat delivered two A-League championships and the FFA Cup, playing an attacking brand of football, before opting to call time on his 14-year association with Victory in 2019.
"Subconsciously, I was doing a form of coaching when I was playing. Albeit, it wasn't organising tactics or deciding the style of play, but I was driving that on the park. That's just who I was," Muscat told Stats Perform as he discussed his transition from captain to coach.
"For example, the first year at Victory, we get to the end of the season, we had [goalkeeper Eugene] Galekovic and [Michael] Theo – they used to play two games each. They weren't too happy with that. I said to them 'when we get a goal-kick, why wouldn't you drop it to me or give me the ball?', 'Oh we were told not to give you the ball because you'd play out from the back and we were to kick it forward'. Then it started, well okay, that's why I like to do.
"A lot of people spend a lot of time creating a perception of themselves instead of being themselves and let a perception be created by being themselves. I've done the latter and just been myself. I actually enjoyed passing the ball and thought I was a very good passer of the ball. I wanted to keep possession of the ball. That's how it started to form, building up my own ideas and style.
"Having an opportunity to work with Ange and try to fit in so much during the 14-15 months together. Fitting in so much knowledge. That's when it dawned on me – I knew I wanted to be a coach but then I was like, wow, this is what it takes.
"Ange took me out of comfort zone. It's not really a test because Ange is focused on winning the game and everything needs to be right, but I found myself tested and out of my comfort zone. I had spoken to Victory two or three times prior to that about when opportunities were available to take over and I didn't even entertain it.
"When Ange went to the national team, I had a conversation with him and that gave me a lot of belief in my own thoughts and coupled with how Ange goes about his style of play. I knew I was ready then. Fortunately enough, Ange was fairly influential in speaking to the club. The rest is history.
"Perception is sometimes not the reality. I'd like to think the five seasons I was coaching Victory, we played some really good football, some exciting football."
The 48-year-old won 87 A-League matches – the fourth most of any coach in the history of the men's competition, after Ernie Merrick, Graham Arnold and Tony Popovic, with the ex-Socceroos skipper one of seven coaches in the history of the league with a win percentage of 50 per cent or greater (51).
Muscat departed Victory with his teams averaging 1.7 goals per game; among managers who have coached at least 30 matches, only current Australia boss Arnold (1.8) has seen more goals scored per game.
Once Postecoglou was lured to Glasgow by Scottish powerhouses Celtic at the start of 2021-22 after guiding F.Marinos to their first J1 League title in 15 years in 2019, the Japanese club turned to Muscat. Just like he did at Victory, albeit in different circumstances, the latter stepped into fill the void left by compatriot Postecoglou in July.
"Whatever we do, it comes down to perception and narrative," Muscat, whose playing career featured stints at Crystal Palace, Wolves and Celtic's bitter rivals Rangers, while captaining Millwall to the 2004 FA Cup final against Manchester United, said as he recalled his move to F.Marinos. "More times than not, the people holding the pen or keyboard, dictate the narrative.
"There was so much stuff that I presented from my time at Victory and the way we played because we did for many years played an attractive brand of football, in my opinion. We scored many, many goals and entertaining goals. But maybe that's not the perception in Australia because it depends on the narrative.
"I'm not one to push the narrative and agenda but ultimately the perception is, in a percentage wise, what is mostly believed. But when it came to the crunch and I had to present, I was fortunate enough to fall back on some stuff in relation to that, where perception was eliminated and it was fact and visual."
F.Marinos were crowned Japanese champions two years ago, playing a high-octane and entertaining style of football under Postecoglou, who completely transformed the club that are part of the City Football Group (CFG). His legacy lives on in Yokohama.
Muscat, though, is building on Postecoglou's work, with F.Marinos second in the table this season, behind runaway leaders Kawasaki Frontale through 33 rounds.
"It was clear and evident from those discussions and hence the way it influenced my presentation, they truly believe here at F.Marinos to continue the legacy of Ange and the legacy of the football club, which the club and fans truly believe in – the way they think the game should be played," Musctat said.
"Everyone wants to win but there's high level of belief in the process and style of football. From my perspective, that's what appealed to me.
"I was under no illusion because there'd be people, and rightly so, who'd say he took over a club that was well versed in terms of playing style and where it's at. On the flip side, it had some real challenges because normally you get a job, most times, because something isn't going well and someone has been dismissed.
"This was very unique and presented its own set of circumstances because you're actually stepping into the shoes of a great manager and someone who has done so much previously and for F.Marinos.
"Throw into the fact there was quarantine and I came out a day before seven games in August. It's been everything I expected, it's been thrilling. To be able to continue on in F.Marinos fashion and style of football but also try to improve the team. We had an unbelievable little run where we started to apply some pressure and Kawasaki have pulled away again in recent weeks. We'll keep fighting with our last breaths."
As Muscat said, it is not so straightforward taking on a role where not too much was going wrong – Postecoglou was handpicked to oversee a rebuild at Celtic, who were dethroned by Steven Gerrard's Rangers last term.
But Muscat is trying to put his own stamp on F.Marinos, who have won eight of his first 13 matches in charge with an expected goals (xG) value of 2.01 and 26.14 in total, having scored 31 times in that period.
Maintaining a high-pressing philosophy under Muscat, F.Marinos – spearheaded by forward stars Leo Ceara and reported Celtic target Daizen Maeda – have won possession in the final third on average 5.77 times per game since his arrival.
When comparing F.Marinos to the league leaders or second team over the entire 2021 campaign so far, they rank first in xG (64.81), total shots (505), shots on target (188), passing accuracy (85.8 per cent), possession (65 per cent), passes in opposition half (12,145), open crosses (581), big chance total (91) and total fast breaks (12).
"There were some challenges stepping in and following Ange because the perception is everything is set up ready to go and the reality is, it was and I'm comfortable admitting that," Muscat said. "Then it was finding a way to continue that on and improve.
"What we looked at was where we were getting a lot of passes. We were very comfortable building up and drawing teams onto us then utilising the space. Whether it was in front of a back four, five or six or behind them, if they were really aggressive in their endeavours, trying to force us to play long and we'd persist and play through that, knowing there's space the other side.
"As time started to go on, we were scoring freely, you could sense teams weren't as aggressive pressing us. We worked hard on trying to increase the amount of time in our opponents half, the amount of passes in our opponents half.
"What it did do, teams are actually sitting so deep, the consequence is not a lot of space and opportunity to get behind them. Now we're in a position where, if we do get an opportunity go get forward and use space behind, where we can do that early, we still have to take that chance. But, now it's a matter of breaking teams down when they're a lot deeper.
"We had a lot of joy with the front players and they were scoring freely. Opponents have adapted. Now we have to shift and adapt. Another thing to factor in is the time of the year – teams above the relegation zone fighting for their lives, there's a lot of self-defence, teams are going into that mode.
"That's the side of the game that interests me a lot – finding and trying to identify trends prior to them happening. Then identifying trends while they're happening and try to find solutions."
Like Postecoglou, Muscat is getting his message cross through a translator.
"There's one thing that is constant in football: you're dealing with people. Fortunately, I find myself working with a translator, Yuchi; he is a wonderful guy," the 46-time Australia international said. "He actually cares, he is invested, he wants the team to play well. He is in all the meetings, he is riding the wave just as much as me and possibly even more emotional than me.
"From that side, you miss that element of directness and the emotion of having a connection with somebody. The next best thing is to have someone like Yuchi. We do a lot of video. We all learn in different ways.
"I think the one thing this pandemic has taught us – before this I didn't have an idea what Zoom or Teams was. If you want to survive, you'll find a way like we have these past couple of years."
Muscat's journey to Japan came after a short spell in Belgium with top-flight outfit Sint-Truiden.
Trying to break down barriers like Postecoglou amid a stigma against Australian coaches in Europe, Muscat's AFC Pro license was not recognised initially, leading to him being named technical director. All in all, his tenure did not go according to plan following a promising start.
Despite the setback, Muscat remained steadfast in his desire to succeed outside of Australia amid interest from his homeland and beyond as he continues to build his growing coaching reputation.
"We arrived in the summer and ultimately I was the coach at the time but because of the AFC Pro License – I lasted more than the 14 games reported," he said.
"We made some progress. The reason I was there because the club and owners had a vision to change the way they were playing. We went in during the winter break, we were in Spain. All of a sudden it was flipped 180 degrees to what they were doing prior. We had immediate success in terms of results. Then you could see the rewards paying off in terms of performance.
"That season finished and the pandemic hit. We didn't recruit anywhere near, that window was the first window we had to affect the playing squad in terms of personnel. To maintain where we were and progress, we needed to bring in players.
"It was very challenging for most clubs. We struggled in the market. We lost our captain and influential attacking midfielder and another striker. The list went on. I hear this question, 'well if you haven't got the players, why do you persist in playing a certain way?' The answer is quite simple because that's what I believe in and enjoy. If we don't have the players, well we're going to make this group better.
"We started season okay. Then you could sense one or two people around you at board level and even at the club, not having the same belief as you. The reality is, the three or four games leading up to my last game, we were playing some great stuff as crazy as it sounds. I could see us making progress. I could sense that we were going to get it right, the players were strong in their beliefs and resilient in persisting.
"Unfortunately, when your first instinct is to analyse results, you're missing the path that we agreed that's why I was coming there for.
"It was an unbelievable experience for me. I could've sat comfortably in Melbourne, walked out to my coffee shop in Albert Park, read the paper every day, but I wanted to take myself out of my comfort zone and learn, go on a journey and learn. So far, when I've made those decisions, they've been rewarding."
Muscat added: "I was determined that I wasn't finished. There were three-four opportunities – some in Australia and some in Europe. This opportunity come up to interview. The persistence and the will and want, now I find myself here. I couldn't be happier."