Mbappe on link-up with Neymar and Messi: It's a shame it's only happening now!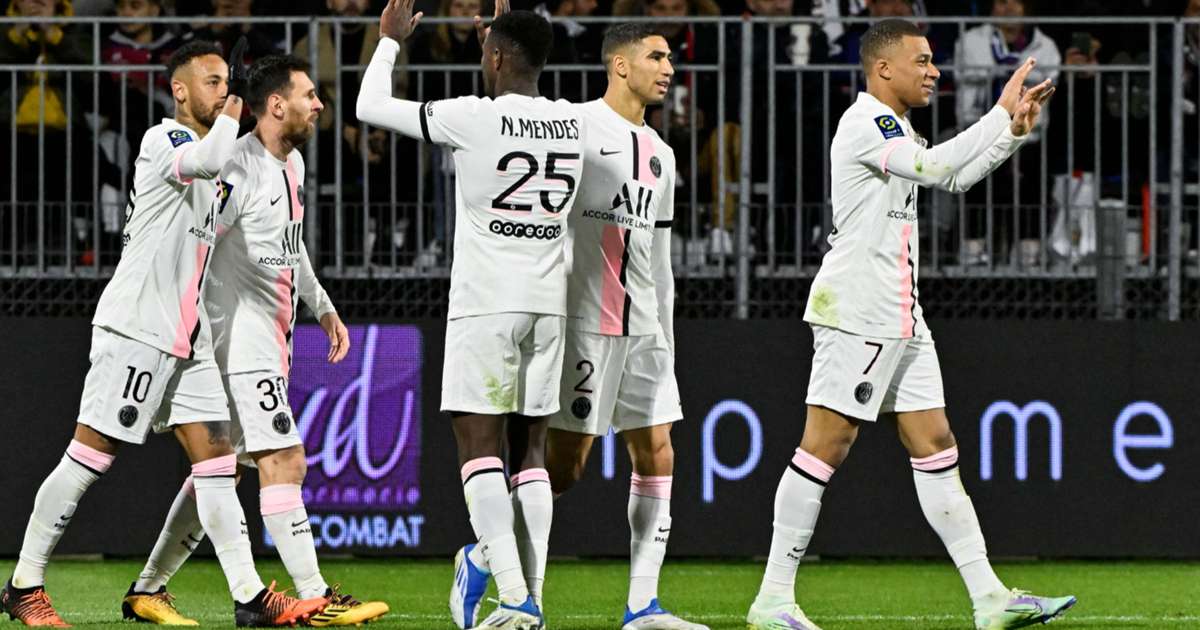 Kylian Mbappe and Neymar scored hat-tricks while Lionel Messi had a trio of assists in a PSG win that left the France star with regrets.

FotMob - last year
Kylian Mbappe regretted only getting a chance to click with Neymar and Lionel Messi late in Paris Saint-Germain's season and was guarded on how it would affect his future.
Mbappe and Neymar scored hat-tricks as PSG claimed a 6-1 victory over Clermont on Saturday, sending Mauricio Pochettino's men 15 points clear at the Ligue 1 summit.
It was the first time two team-mates have scored trebles in the same top-flight game since Mbappe and Edinson Cavani did so for PSG against Guingamp in January 2019. The most recent occasion prior to that was Albert Gemmrich and Gerard Soler for Bordeaux against Valenciennes in August 1979.
Neymar and Mbappe set one another up once each, while Messi had a trio of assists to become the first player to achieve that on three occasions in a single Ligue 1 season since Opta began collecting the data in 2006-07.
However, it was only the 14th match the trio have started together in all competitions this season. Last weekend's 5-1 success at Lorient was the first time they had all found the back of the net in the same game.
It remains to be seen whether Mbappe will continue to play with Messi and Neymar next season, as his contract is due to expire at the end of the campaign and he has been heavily linked with a move to Real Madrid.
Mbappe admitted it was frustrating the trio were only getting a chance to meet expectations with the Ligue 1 title the only trophy available to them. 
"It's a shame it's only happening now. There were a lot of circumstances and events that caused us to be delayed a little," Mbappe told Canal+. 
"We feel that we are three quality players and try to help the team as much as possible. 
"We are happy. We had a lot of fun and I think we gave the fans some too. We remain on the road to the 10th title, which is not very far away." 
However, Mbappe refused to be drawn on whether his relationship with Messi and Neymar would encourage him to stay at the Parc des Princes. 
"I've already answered," he said. "Neymar and Messi have been here since July. I've seen them many times. I've already answered." 
PSG were eliminated from the Coupe de France on penalties by Nice in January and failed to get past Real Madrid in the last 16 of the Champions League. 
Mbappe added: "Life is like this. Sometimes you win, sometimes you lose. You always have to look ahead. 
"It's gone now. We had pain, it is still present but we must be positive, show we are a great club, a great team and we are here to win trophies."