Serie A Review: Milan suffer more misery in the Derby as Lazio continue to impress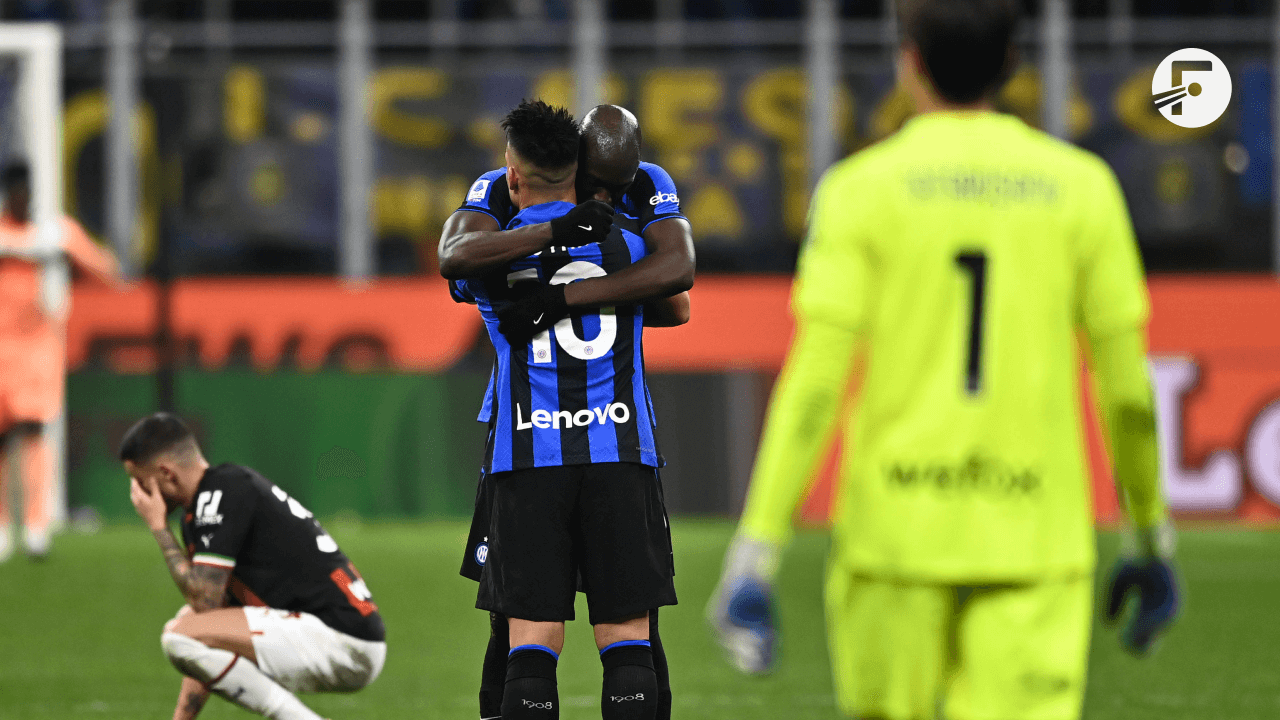 This week we discuss what's going wrong with Milan as Inter inflict another defeat on their city rivals and look at how Sarri-ball is beginning to work out for Lazio. Plus we introduce the wider world to a cult hero at Lecce.

FotMob - about 1 month ago
---
By Matteo Bonetti, US Serie A expert
---
Milan's dark abyss
Milan's dreadful 2023 shows no signs of slowing down. The club is now winless in their last seven matches in all competitions, having conceded 18 goals in that stretch. We keep asking when this team will show a response, battle back from adversity; but the situation seems to be getting more dire as the weeks go on. Less than a month ago, we were asking if Milan had half a chance of challenging Napoli's Scudetto hopes. Now, we're wondering if this club can even get into the top four. They're currently sixth place in the standings, in what will undoubtedly be one of the tightest races for a Champions League spot in recent memory.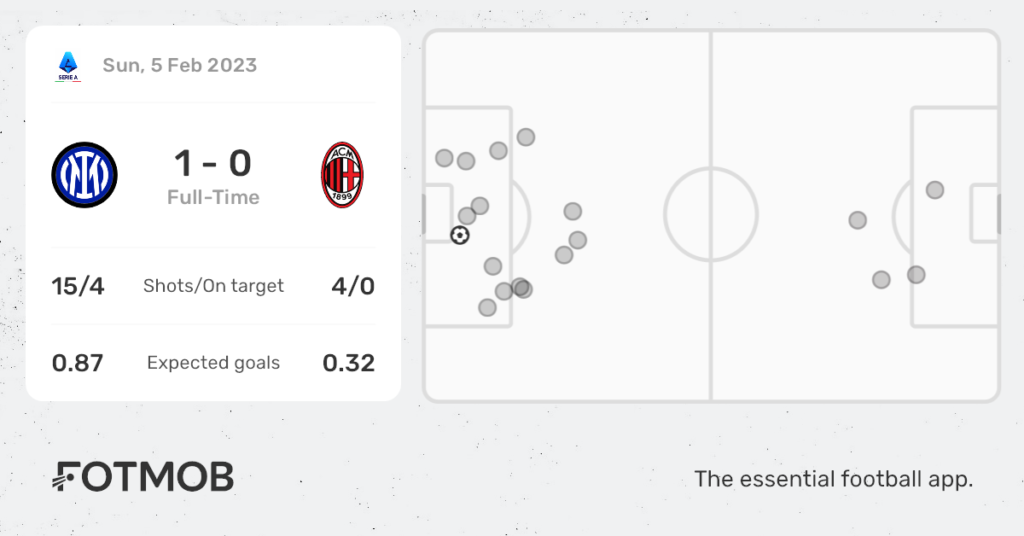 Losing once again to Inter didn't help their cause. Even more perplexing were Stefano Pioli's managerial choices before the game. Pioli has stayed true to a 4-2-3-1 formation since joining the club three years ago, but scrapped that in a panic to go for a more defensively sound and balanced 3-5-2. If the idea was to play a defensive low block and absorb Inter's pressure while hitting out on the counter, then the omission of last season's Serie A MVP Rafael Leão is inexcusable. Leão isn't just Milan's best player by a long distance, but someone who can change the course of the game every time he touches the ball because of how electrifying and unpredictable his style is. Even if the Portuguese winger has been going through a rough patch, benching him in the derby against Inter is blasphemous. 
What's even more worrying now is Milan has seemingly lost their identity. Before, they were a team that pressed well, defended even better, and looked competent in possession. Now, they can't do any of those things well. Inter dominated the Rossoneri in the first half and should've scored more than just the one goal. In the second, Inter played slightly more passively and the game changed a bit when (surprise, surprise) Rafael Leão came on. Even if Leão isn't touching the ball, he fundamentally changes the way a defence will line up against Milan. Without him on the pitch, Inter had no fear to send everyone forward and play with a high line in the first half. Olivier Giroud isn't exactly a pace merchant and Divock Origi is still an enigma.
Milan's next two games don't look promising either. They face a Torino side that knocked them out of the Coppa Italia this year and then host Antonio Conte's Tottenham, who just won against Manchester City in the Premier League. Milan have hardly tasted Champions League knockout action in the last decade, so for them to get out of the group stage but face their round of 16 opponent in perhaps their worst run of form in the 21st century is devastating for the hopes of Rossonero fans.
Can Lazio surprise?
Last summer, virtually no one had Lazio finishing in a top four position. After all, the club is usually very conservative in the transfer market, opting for an approach which is based more on keeping their current stars rather than signing new ones. Their President Claudio Lotito has been known for being a bit tight with the wallet, so the club has hovered around this grey zone where they're usually the fifth or sixth best side in the league every season. However, something feels different now. Ignoring the fact that Juventus have been taken out of the race with their -15 point deduction, Lazio are playing better in year two under Maurizio Sarri. This is perhaps the biggest difference in their success as a team – adapting to Sarri's tactics takes a long time. It's why the manager had to scrap some of his ideals when he was the Juventus boss because winning meant more than anything there, and he knew that they'd be sacrificing their Scudetto chances if he actually went ahead with a complete tactical revolution at the club. Since Lazio don't have the same trophy ambitions as the Bianconeri, he's been afforded more time and patience to work his magic.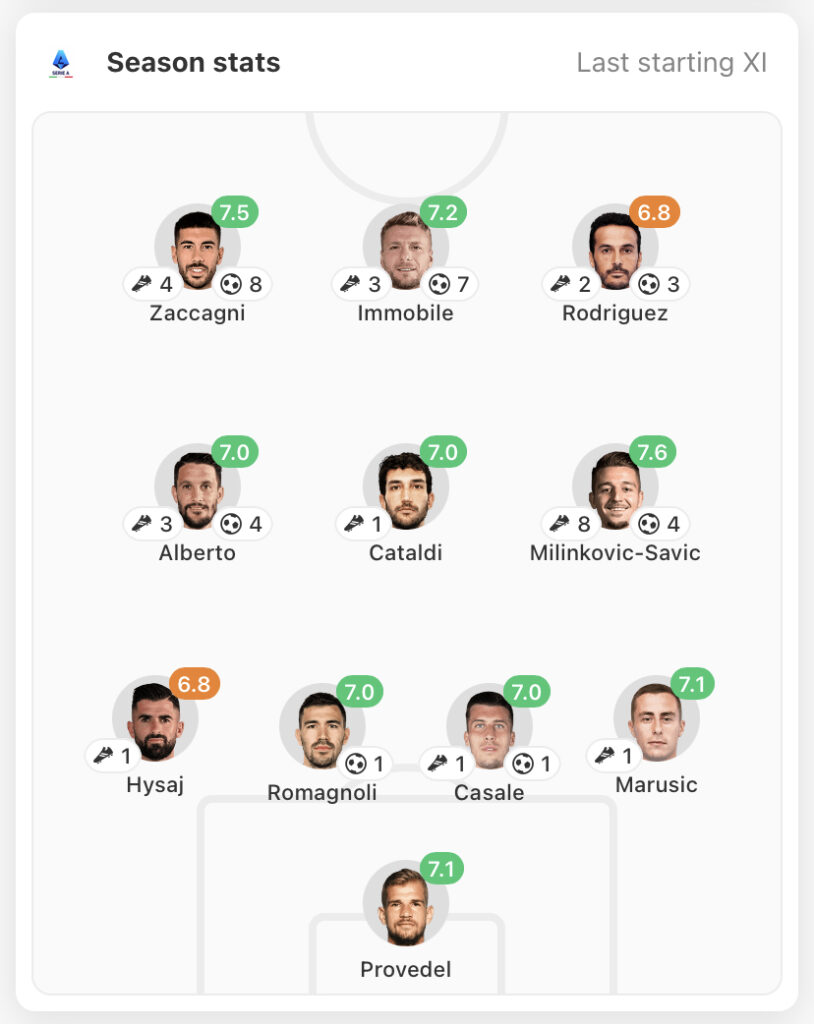 At their very best, Lazio is second to Napoli in terms of pure aesthetics. The peak of "Sarri-ball" at Lazio was seen with their 4-0 win over Milan last week. Their possession game, quick passing combinations and frenetic pressing is suffocating for the opposition, and even more impressive when you see that they haven't been reliant on goalscorer, Ciro Immobile. The Italian striker has suffered some injuries, so Sarri has gone with a false nine look which he mastered at Napoli when he turned Dries Mertens from a rotational winger to one of the best goalscorers in Europe. Sarri has plenty of intelligent players to carry out his expectations. Mattia Zaccagni is perhaps the most underrated player in Serie A – the Italian has eight goals and four assists in the league, and does so many things well. Pedro is a high IQ attacker who has been part of some of the best offensive sides of the 21st century, while the midfield is stacked with quality with Sergei Milinković-Savić, Luis Alberto and Danilo Cataldi. The last thing Sarri has done is revolutionise the Lazio defence, which sent away both starting centre-backs and goalkeeper, to sign a brand new unit which has performed a lot better. That's often a misconception about the manager's style – that it's just a great offence. Sarri's teams have historically had a solid defensive record as well. It's hard to concede when you're monopolising possession, but defensively he's always preached an organised approach and quick transition to a defensive phase if they can't win possession back right away. Lazio just might finish in a top four position if they're able to capitalise on both the Juventus point deduction and Milan's poor run of form.
A new cult hero in the south of Italy
Federico Baschirotto has become somewhat of a hipster icon in Serie A this season. The hulking Lecce centre-back has gone viral with his Mr. Olympia style flexes after goals. What differentiates him from so many other players is a physical trait – he simply isn't built like a footballer. In all my years of covering the sport, I have a hard time remembering any player who is more imposing from a physical standpoint than him, hence the celebration.
Baschirotto isn't just brawn though, he's actually looking like a competent Serie A defender after making his debut in Italy's top flight this season, aged 26. Last season was only his first in Serie B with Ascoli, after spending his whole career before that in Serie C with household names like Cuneo, Forli and Viterbese. He's been able to make the most of his meteoric rise up the football pyramid, with solid displays at the back for Lecce where he looks like a true enforcer and aerial threat.
Baschirotto's name has even been linked with a move to bigger clubs in Italy, so it's definitely one to remember.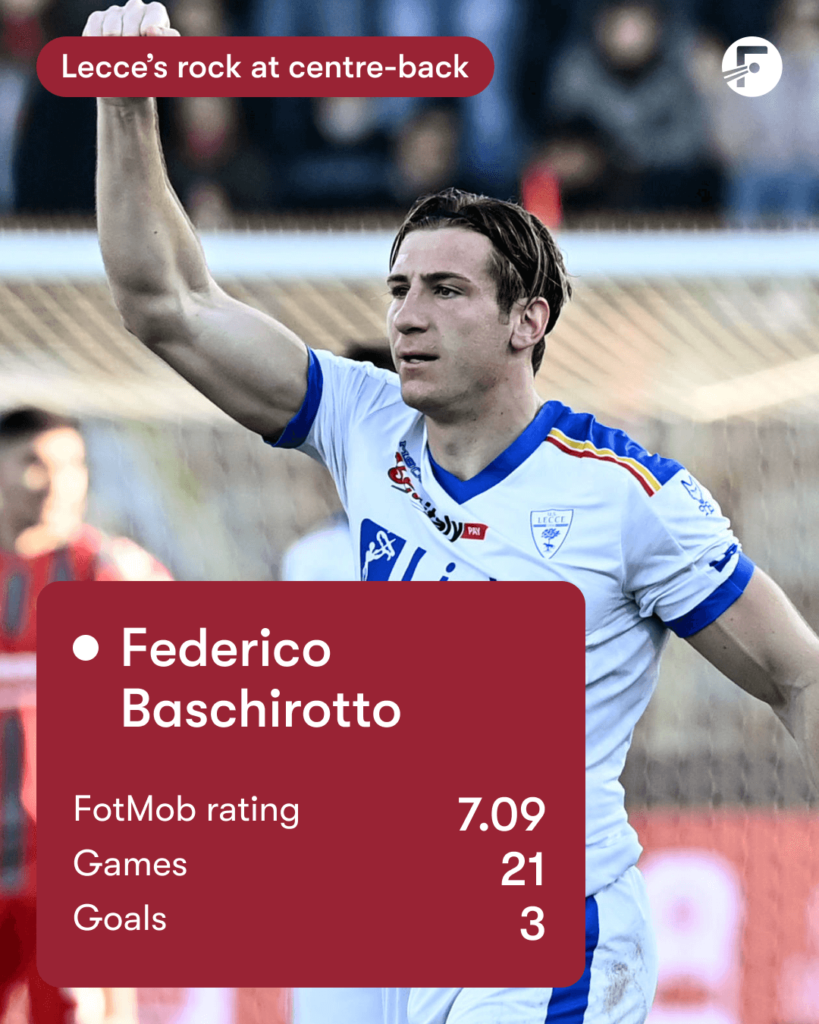 ---
(Images from IMAGO)
---
You can follow every match from the 2022/23 Serie A season live with FotMob — featuring deep stats coverage including shot maps, xG, and player ratings. Download the free app here.