Harry Kane is going under the radar this season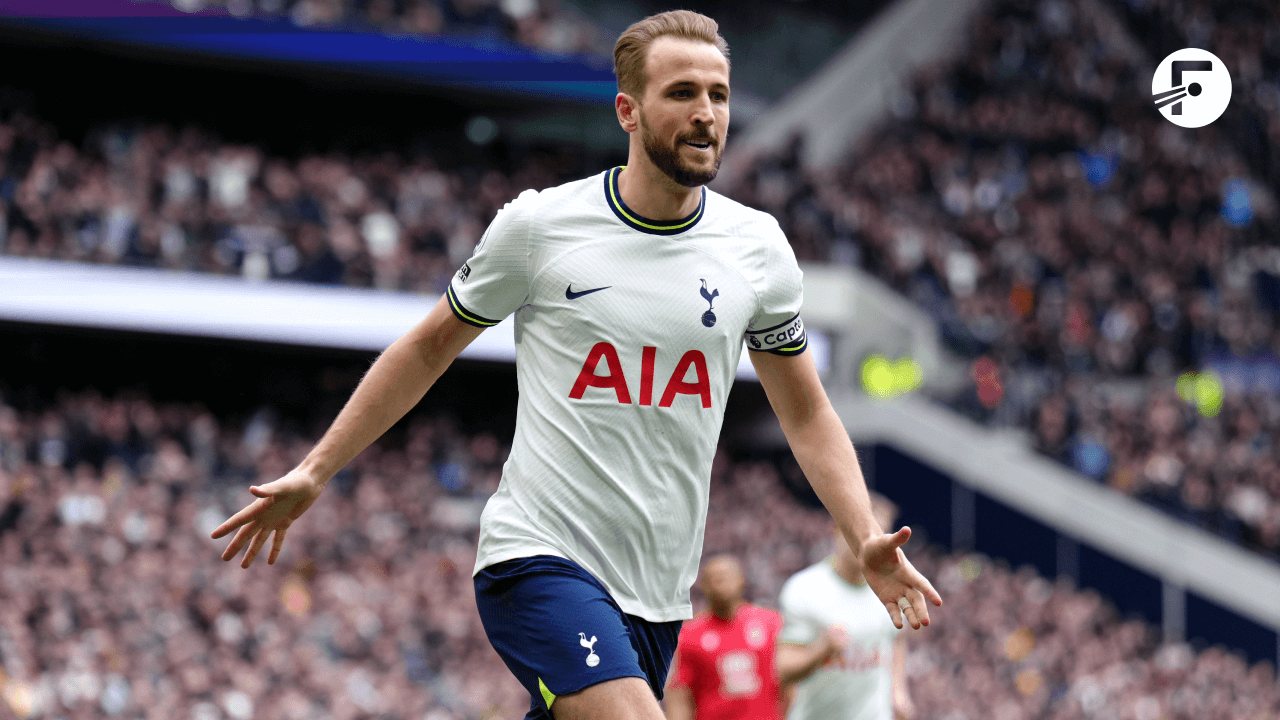 FotMob - 2 months ago
It is an odd thing to say about a player who recently became the top scorer for England when he netted in the win over Italy, but it is true. The goalscoring exploits of Erling Haaland for Manchester City have cast a shadow over every other attacker in the Premier League. The Norwegian goal machine has 28 goals to his name already and looks destined to shatter the existing record of 32 goals in a 38-game campaign. 
---
By Sam McGuire, Premier League expert
---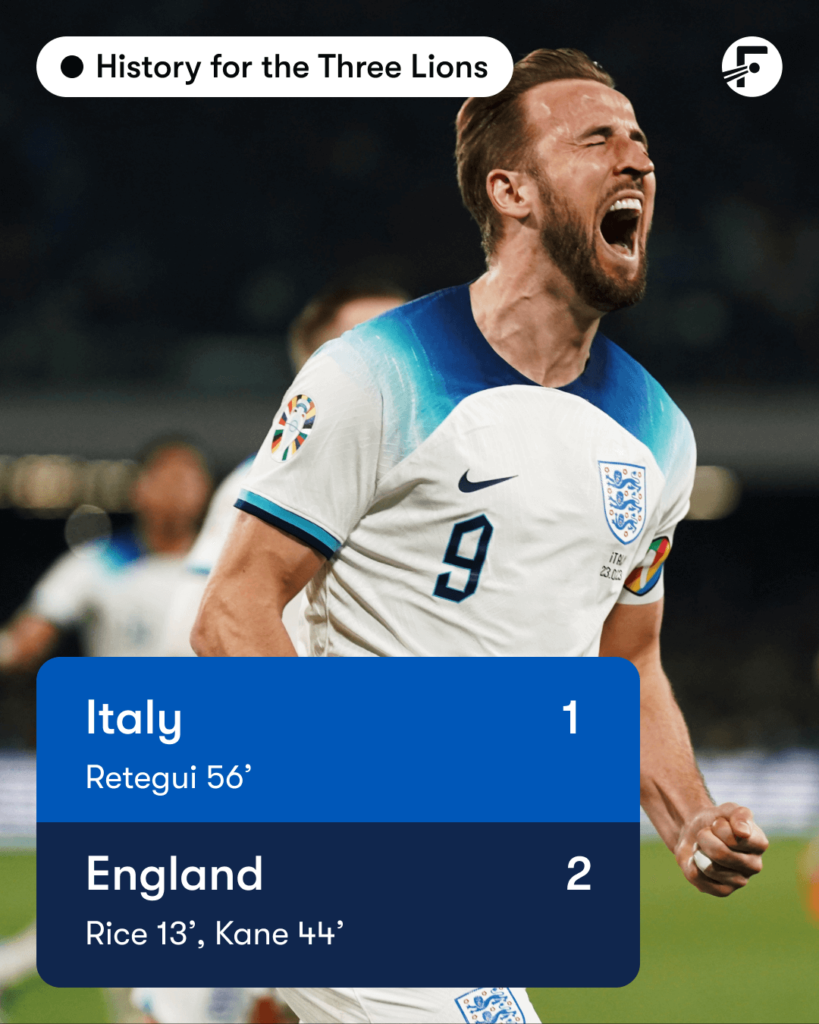 With everyone focusing on the City No.9 and his numbers this term, Kane is being overlooked. The Spurs talisman has already found the back of the net on 21 occasions and looks set to have his most prolific campaign since his 30-goal haul during the 2017/18 season. 
He missed out on the Golden Boot then as well with Liverpool's Mohamed Salah setting a new record with 32.
There are parallels to that season. The new goalscorer in the league is going to shatter an existing record and prevent Kane from adding to his individual trophy cabinet.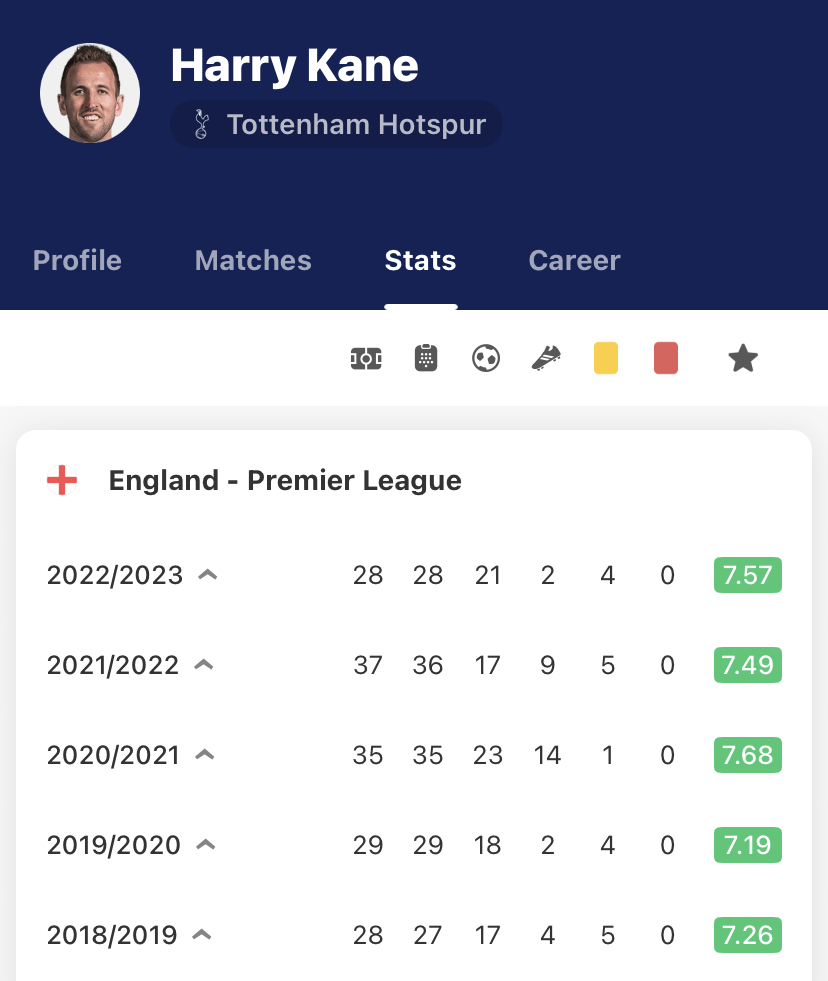 Prior to this season, the 82-cap England international had scored 20 or more in just one of his last four Premier League campaigns. It is by no means an issue but in his first four full seasons with Spurs, Kane netted 20 or more goals. In three of them, he managed 25 or more. 
Kane had 105 goals to his name across those first four campaigns but just 75 in the following four. He was still one of the best goalscorers in the Premier League but he wasn't anywhere near as prolific as he was in those early days.
He didn't have to be though. His role within the Spurs team had evolved and he was combining goals with assists, playing as a well-rounded centre-forward. Kane notched 23 assists across the 2020/21 and 2021/22 Premier League campaigns. While he wasn't scoring as often, he was still heavily involved in the team's output.
For example, he may have scored 30 in 2017/18 but he assisted just two goals to take his goal involvement tally to 32. During the 2020/21 campaign, he scored seven fewer goals but assisted 14 times to take his involvement total to 37. Last season, he scored 17 times and assisted nine times. The goals may have dried up a little but he's still been contributing to 30 goals per season over recent seasons. 
He's currently on 23 this season in just 2,508 minutes. He's assisted just two goals this season, reverting back to the Kane of yesteryear as the pure goalscorer. But this alone highlights how flexible he is as a player. Goal-getter or goal-creator, he can adapt to different situations.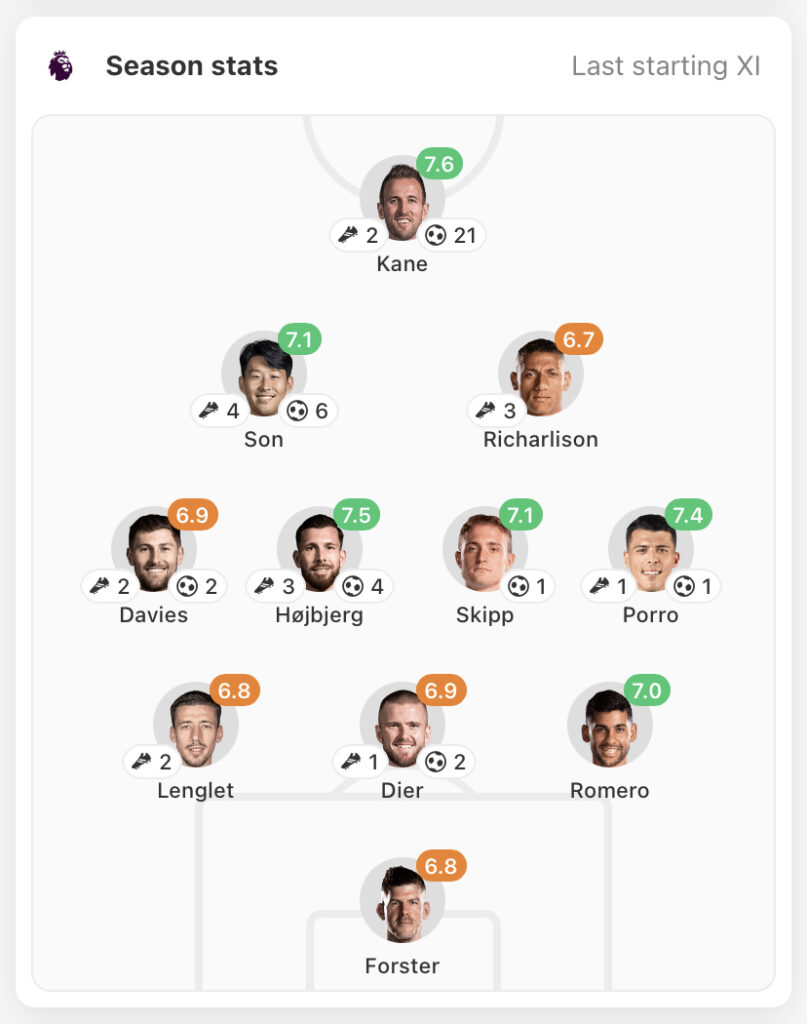 Kane has an Expected Goals (xG) total of 15.6 this term so there has been an overperformance in this particular area. He's over five goals better off. However, when you look at his Expected Goals On Target (xGOT) total (17.8), it does go some way to explaining why he's scoring at the rate he is. 
He is finishing well due to his shot placement. However, you can't use these figures to forecast what he going to happen. All this does is highlight that Kane has been adding value to his shots this season with his placement. A reason for this might be that he's getting opportunities in better situations this season.
For context, last season Kane had just 14 shots from inside the six-yard box last season – 10.5% of his shot total. This season, he's already surpassed the 14 shots (16) of last year and shots from within the six-yard box account for 15.5% of his total so far.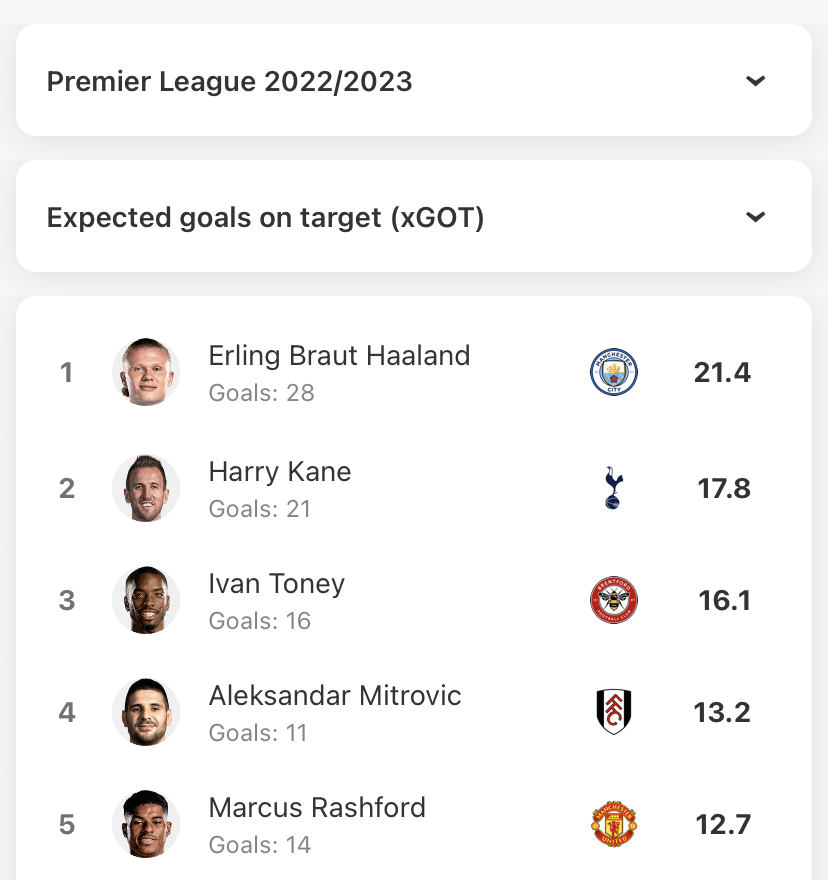 The Spurs No.10 is able to scale up his underlying numbers because he's in better situations on a more regular basis. It sounds fairly straightforward but getting the ball to your centre-forward in higher-value areas is easier said than done, but Spurs are doing it and Kane is reaping the rewards. 
What makes this all even more impressive is that the three-time Golden Boot winner is managing to do this during what is an inconsistent season for Spurs. Performances and results have been patchy, Antonio Conte was sacked during the international break and there is still doubt over the striker's future with the club.
His current deal expires in 2024 and he is believed to be a transfer target for both Manchester United and Bayern Munich. If Spurs don't nail their next managerial appointment, Kane may opt to leave and the club could be forced to cash in on the striker this summer rather than allow him to leave for free 12 months later.
All of this could impact a player's performance, yet Kane has been at his prolific best. There's every chance he finishes with 30 Premier League goals for only the second time in his career. He could fire Spurs into the top four while simultaneously proving he's still a clinical goal machine. If it is his last season with Tottenham, he's set himself up to go out on a high.
---
(Images from IMAGO)
---
You can follow every match from the 2022/23 Premier League season live with FotMob — featuring deep stats coverage including shot maps, xG, and player ratings. Download the free app here.